Averett Women Dance Team looks to bring new energy to campus
JaCorey Burley, Writer
September 12, 2019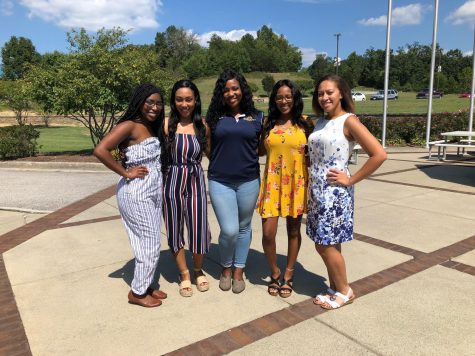 With the 2019-20 school year underway you notice a lot of changes in staff members and a few new sports team added to the list of athletics Averett has to offer .
Coach Alexis Harris the new head coach of Averett's Dance team looks to insert her team into the mix and help make game day experiences more exciting.
"We have a great group of girls ready to compete and I'm excited to show Averett what we have to offer," Harris said. She added that she plans to stress teamwork as the squad prepares for game day.
The team currently has 14 female members that are ecstatic about the opportunity. Sophomore Jasmine Sutton is one of the new team members.
"I'm very excited about this opportunity it's my first time being on a dance team, because I previously cheered, but Coach Harris is an amazing coach which has made the transition easy," Sutton said.
Sutton is particularly excited about how the team is bonding.
"Our first practice we did an ice breaker which the entire team just laughed and got to know each other."
Sutton also stressed the excitement the team has as their uniforms are set too arrive soon which will be followed by their first half-time performance at the football game which is set for October 19, 2019 on Averett's Homecoming.
Although the Dance Team isn't considered an NCAA sport, Harris looks to garner respect from the other sports teams on campus by having her team members do similar tasks that are required of every other sport team such as study hall, fundraisers and bringing a breathtaking performance to an already vibrant gameday .
Let's all give the new dance team a warm welcome to the Averett sports family and come out and check their half-time performances for home football and basketball games this season .