Averett Welcomes Dr. Venita Mitchell as the New Vice President of Student Engagement & Senior Student Experience Officer
Dr. Venita Mitchell has stepped into an inaugural role at Averett University as the new vice president of student engagement & senior student experience office.
Mitchell has spent the past 22 years of her career at William Woods University. She served as the vice president of student life, combined with serving as the Dean of Students and in the Athletics department. Mitchell is a Virginia native from Richmond, Virginia and attended Virginia Commonwealth University.
"I have had a lot of experience in higher education administration and I was ready to try my leadership skills at a different school," Mitchell said.
With having experience working at an institution with similar size, majors, and culture and being close to home, Averett seem like a perfect fit. "COVID made us reprioritize a lot of things, and family towards the top of the list," Mitchell said.
In this new position, Mitchell is mainly focusing on student engagement and doing everything for the betterment of the student experience. This new position is pulling a few positions into one. Mitchell's roll includes overseeing Student Life, Dean of Students, Center for Community Engagement and Career Competitiveness, and Student Academic Success.
"Being a peer accredited season professional, I hope to not only bring new best practice ideas, but also leading pulling staff together. I am looking forward to more interactions with students, and help them with the complexities of college, home lives, mental health, etc," Mitchell said.
Mitchell believes the largest challenges not only she will face but higher education will face are that "very few students have the luxury of focusing on just classes because there are always financial issues, plus involvement in sports and clubs on campus."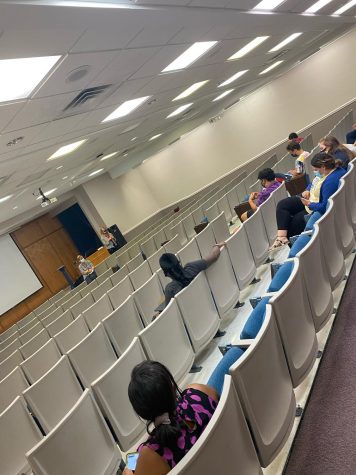 Mitchell also believes higher education will face issues of students not using their resources wisely, so she wants to assure she is helping contribute to students getting the experiences they need for their future careers.
"I am excited to be a part of Averett and cannot wait to begin engaging with students. I want students to know that I am approachable and that I want to understand their experience while sharing resources with them," Mitchell said.