Phillip Mitchell, a valuable addition to the Averett Family!
Lydie Kodio, Multimedia Editor - Writer
October 17, 2019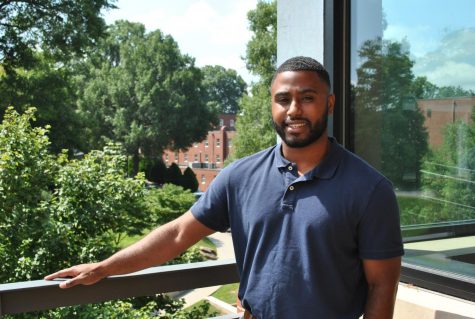 As we all know, seeing people come and go is all part of the institutional cycle. Recently, Averett has welcomed a lot of new valuable faces for this semester. Phillip Mitchell is one of them. 
Coordinator of Health and Wellness, Mitchell comes from Dallas, TX. He graduated from the University of North Texas and Dallas Baptist University.
Here at Averett, Mitchell is responsible for all aspects of intramural and recreation programs and activities including the operation and management of Carrington Gym. 
"My job includes scheduling, assuring responsible and safe use, compliance with facility rules and requirements, supervising activities, and reporting issues to maintenance, campus safety and security, Title IX Coordinator, and others as appropriate,"  Mitchell said.
Really appreciated from both students and staff members because of his great energy, Mitchell explains how his work days are filled up and how it is not always easy. 
"I promote programs through flyers, social media and word of mouth and I also have several meetings with different departments on upcoming events we might have to plan ahead of future events/programs. I enjoy creating a program for all students to participate in and the most exciting thing I have done so far is having three on three basketball intramural in Carrington Gym Tuesday and Wednesday nights even though keeping the gym clean afterwards has been a great challenge for me,"  Mitchell said.
Mitchell's main role on our campus is to develop and implement intentional health and wellness education and awareness programs, services and activities that support the health needs and healthy lifestyle of Averett students.
When it comes to his main role on campus, Mitchell confesses that one thing that surprised him was the fact that DJ parties were held on campus as he was not used to seeing that everywhere.
When he is not wearing his Health and Wellness Coordinator suit, Mitchell enjoys family time, working out and being involved in sports. 
We appreciate your valuable input, Welcome Home Phillip!