Getting to Know the Angler's Ridge Trail Association
Angler's Park is situated on the banks of the Dan River. Upon entering the park, guests will easily be able to identify the soccer fields, rugby fields, and a boat landing. However, the most prized possession of Angler's Park lies hidden in the woods.
Winding through the tree covered hills of Angler's Park are more than 35 miles of trails.
The Angler's Ridge Trail Association (ATA) are the group responsible for creating and maintaining this beautiful maze of trails. They are a non-profit organization that strives to draw in mountain bikers, and hikers from Danville and its surrounding areas.
"Our intention is to bring people together to disconnect and enjoy and appreciate the nature and indigenous wildlife of our area," Mary-Whitt Jones, secretary and board member, said.
The trails are dirt single track trails, and are purpose built for mountain biking and hiking. Anyone can use the trails for free and dogs are welcome. For the safety of everyone on the trails, motorized vehicles and horses are not permitted.
"I enjoy mountain biking and hiking on the trails," Jones said. "It's a great way to get exercise and socialize with other nature lovers."
The trails are open from dawn to dusk, and are easily accessible from the Angler's Park parking lot.  There are also bathrooms, and a bike washing station next to the parking lot.
In addition to maintaining the trail system, the ATA holds numerous events and volunteer opportunities for the community.  An upcoming event is the third annual Sledge Trail Run on March 9. As well as, the Return to the Ridge mountain bike race on May 18.
The ATA holds Trail Clean Up Days on the third Saturday of every month. On these days, anyone is welcome to participate. Individuals are able to help maintain and improve the trail system alongside the members of the ATA.
"We invite members of the community to join us for a few hours, and bring water, work gloves, closed toed shoes, and their love of nature, to help get the trails looking well kept and ready for your next hiking excursion," Jones said.
Like the rest of the Danville community, Angler's Park was seriously affected by Hurricane Michael. Any help removing fallen trees and tree limbs, along with restoring the trails, is welcome.
The ATA encourages students to become involved by volunteering, attending events, and by simply using the trail system.
For more info about the trails, or how to become involved, students can follow the ATA's Instagram account @anglersridgetrails or visit their website, www.anglersridgetrails.org.
About the Writer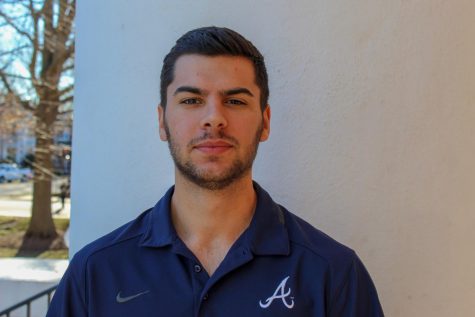 BK Stancil, Staff Writer
BK is a junior majoring in journalism with a minor in business. He plays on the Averett baseball team. After college, he has aspirations to be a journalist...