Students Enjoy Putting Their Mechanic Skills to Work in Parking Lot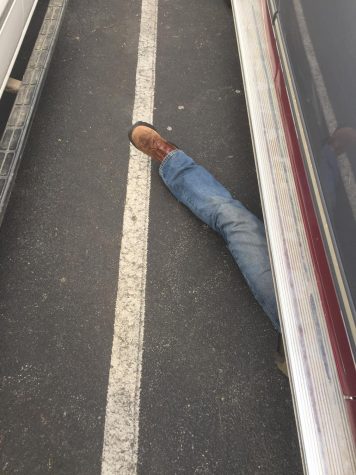 Car repair can be expensive, and college students are often short on cash. But that hasn't stopped some Averett students. They've figured out how to do their own automotive repairs.
While most students were attending the Homecoming football game last semester, three students, sophomore Caleb Wyatt, and Freshmen Zach Scholtz, and Connor Tavenner were in a campus parking lot replacing the motor mounts on Wyatt's 1995 Ford F-150.
"I have done many different repairs to my friend's truck and other cars, so I had a pretty good idea of what we had to do," Tavenner said. "I had helped one of my friends change his motor mounts before, so I offered to help right away."
Scholtz learned how to work on cars by helping his father and brother to fix their cars and to maintain the motorboat that they own.
"I had never worked on a truck before, but I have worked with enough cars and SUVs that I had a good idea of how to work on the truck," Scholtz said.
Scholtz has always found working with vehicles fun. Cars were a way for him to connect with his high school friends.
"All of my friends had cars that they worked on and made modifications to, so it kind of fueled my interest in cars," Scholtz said.
Wyatt has lived his whole life around vehicles. His father is a mechanic in the Richmond area.
"I pretty much grew up in a garage. I learned a lot about cars when I was growing up," Wyatt said. Working on cars is one of the most important parts about his relationship with his father. "We work on cars and trucks all the time. He does it for his job, but he loves it so much that he does it in his free time too."
Sophomore Ricardo "Rico" Roman-Flores is another Averett "parking lot mechanic."  He had to replace the front brakes in his 2001 Jeep Cherokee.
"My brakes locked up and made it impossible to drive," Roman-Flores said. "It was unable to make it to a repair shop, and I know how to replace them, so I bought the parts and fixed it in the lot. I finished the job in about an hour and a half. It took a while longer due to the rust on the caliper and the pin being broken."
Roman-Flores learned to repair his car by watching videos about it on the Internet.
"I watched a few different YouTube videos on fixing my brakes and I determined that I could do it myself," Roman-Flores said. "No one in my family knows a lot about working on cars. My Dad knows how to do some repairs, but he doesn't know a lot about working on cars."
Besides saving money, these young men enjoy working on cars together.
"If there is anything that anyone should take away from out parking lot shenanigans, it's that there is a lot more to do around campus besides joining a club," Tavenner said. "We have had lots of fun around here just working on cars and trucks."
The parking lot repairs are far from over. "Whatever maintenance needs to be done is probably going to be done here," Roman-Flores said. Wyatt added, "Yeah, I think we are far from done with parking lot work."
When asked what further work is going to be done in Averett's parking lot, Roman-Flores joked "all of it."