A Semester at Disney World
It was around this time last year when Chelsea Lavinder, a junior studying musical theatre, submitted her application for the Disney College Program. She heard about the program after working with someone that had been accepted during summer theatre. Finally, she decided last year that it was her time to apply.
"Everything that I read said that you had to apply three times before you get accepted," she recalled. "I was like, 'Okay, this is like my throw away time and this way I could do it my senior year.'"
However, Lavinder didn't receive an instant rejection. In fact, she continued through the process of an online interview and then a phone interview. The entire process took about four months and included a lot of waiting.
"January through April, I was like, 'Do I register for classes?,  Am I renewing my lease?, What am I doing?,'" she said. "I also applied for the fall advantage program, which is in the summer and the fall program, so I didn't know if I was going to be here in the summer and I didn't know if I needed to be looking for a job. Everything was up in the air."
On the last day that Disney was accepting applications, Lavinder received hers. She was told she would be working in merchandising, but she had to wait all summer to know where she would be working specifically. It wasn't until the week before she temporarily moved to Orlando that she found out that she would be working in Animal Kingdom at Discovery Island.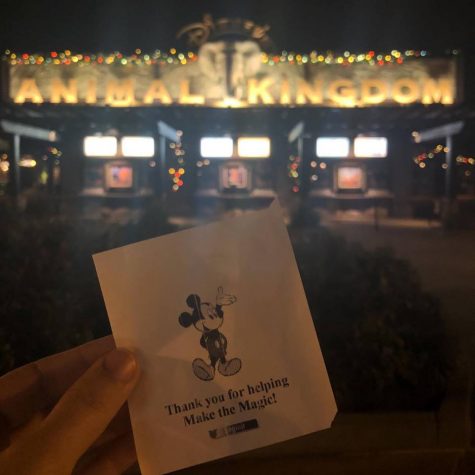 "I loved Disney for my whole life, so being there and working there was really cool," she said. "Animal Kingdom is my favorite park. I went to Animal Kingdom almost every time I was going to a park. At some point, I ended up at Animal Kingdom."
A month into the program, Lavinder was also assigned to work in quick service, food and beverage. She often worked five to six days a week.
"Once we got to the holidays and we were hitting like twice regular park occupancy, we were all on six day," she said. "You work anywhere from six hour shifts to 14 hours."
On her days off from work, Lavinder was able to enjoy the numerous parks that Disney has to offer. She was able to participate in the International Food and Wine Festival held at Epcot each year and the Halloween and Christmas parties held at Magic Kingdom.
While in the program, Lavinder lived in one of Disney's housing complexes known as Vista Way. She was required to pay rent and the rent money was taken out of her check each week. She lived with three other people from the Disney College Program.
"Vista was nice for the bus system," she said. "It's the bus hub and every bus comes to Vista. I had my car, but if you don't have a car, you can ride the buses. They take you to any of the parks and Walmart and Publix and the mall."
Lavinder enjoyed the experience of getting to meet new people from all across the globe and meeting all of the guests. She also was able to meet all of the Make-A-Wish families and hear their stories.
"I met a family who fostered children with special needs and specific medical needs," she remembered. "It was so cool. They are the superior people of this entire planet. I was like, 'You deserve so much in life.'"
Despite all of the people that she met, Lavinder feels that if she could change one aspect of the experience that she should have opened up to the others in her program sooner rather than later.
"I would have gone out of my way to try to make friends faster," she said. "I have a habit of always making the best friends at the end of whatever is happening. I would definitely have gone in there and started making friends earlier and go to the parks more."
Lavinder hopes to return to work at the parks in the future and wants other college students to apply and gain the experience that she did.
"Read and watch the YouTube videos about applications," she said about giving advice to anyone interested in applying. "Everything that they're saying where you're like, 'Wow, that's so crazy. There's no way that's how that works.' It probably is how it works."
Lavinder also has three other friends that have been accepted into the program and her advice to them was to simply have fun.
"Don't focus on anything except having the best time because it's over before you know it," she said.