October is National Breast Cancer Awareness Month and the Averett community is taking part in raising awareness about the illness.
On October 3, 2023, Averett University's Health and Wellness staff was joined by representatives from SOVAH Cancer Center, VCU Massey Cancer Center-Danville, Danville-Pittsylvania Cancer Center, and Danville-Pittsylvania County Community Services in an event spreading knowledge about the impacts of breast cancer.
This event shed light on local health resources in the Danville-Pittsylvania County area, available for anyone impacted by a cancer-related illness.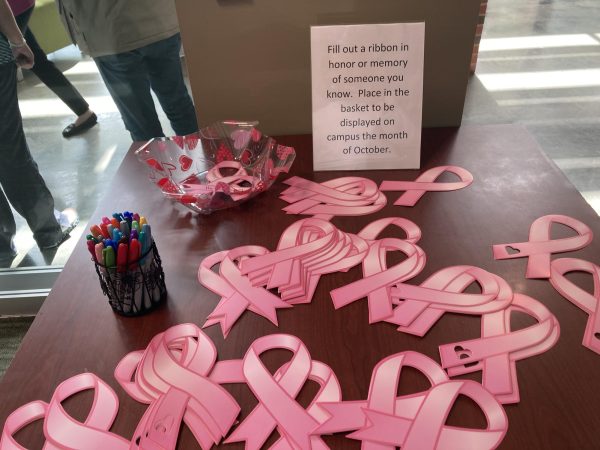 "We are a non-profit that supports people here locally. Whether that be any of the teachers, supervising staff, anybody who works on campus, or students themselves. As long as they're living in Danville or Pittsylvania County," Moriah Shepherd, Danville-Pittsylvania Cancer Center executive director, said. "Our goal is to try and help cover expenses to help reduce their burden."
Several factors can play into the risk of the development of breast cancer, such as family history, being born a female, and being over the age of 40. However, there are ways to reduce the possibility of developing this illness.
"Well, there are four things," Charlotte Garrett, a registered nurse with VCU's Massey Cancer Center-Danville, said. "You want to know your risk, start mammogram screening by 45, watch your lifestyle, and if you feel a lump, follow up about it."
Additionally, Garrett suggests that being aware of local resources is key in battling breast cancer.
"You've got so many (resources) here," Garrett said. "We (VCU Massey Cancer Center-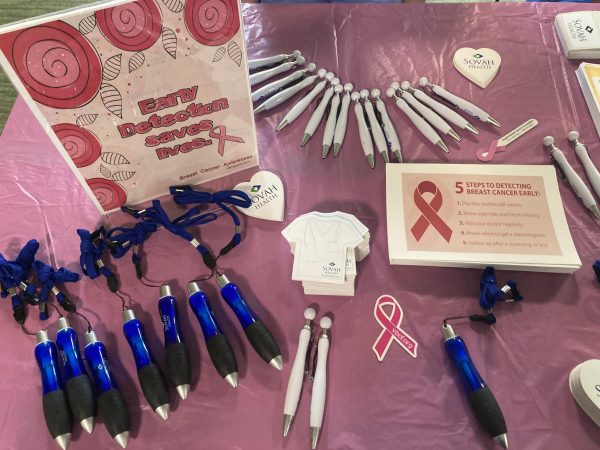 Danville) are in town, DPC's (Danville-Pittsylvania Cancer Center) is in town, and so is SOVAH. We have services, where I will sit down one-on-one with somebody and have a conversation about your risk and screening measures."
Further, with the mental strain of battling an illness or stress in general, Danville-Pittsylvania County Community Services is here to help.
"We have the crisis center which is 24/7. If you're in a mental health crisis, you can go in and be seen," Bailey Wray, community/coalition coordinator of Danville-Pittsylvania Community Services, said. "We're promoting the Bandana Project here on campus, which is a mental health initiative we're trying to get going."
While the Bandana Project is still a work in progress, Danville-Pittsylvania County Community Services is working with Averett University to allow anyone on campus to sign up for a digital program on mental health. Those who complete the program will receive a green bandana and a resource card. The bandana showcases support for mental health and the resource card has a list of local resources available for anyone struggling.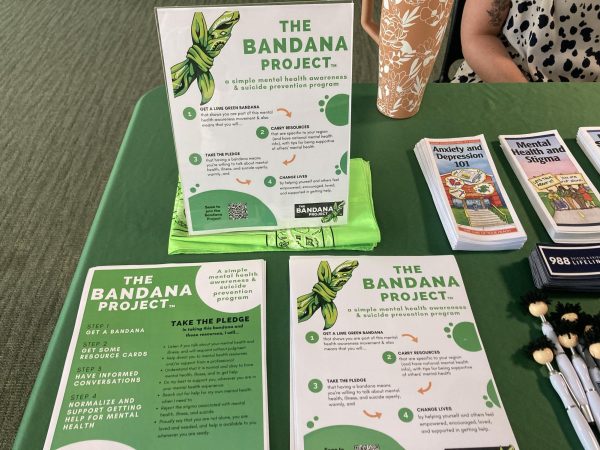 To learn more about breast cancer awareness and health services available on campus call: 434-791-5824 or email the Director of Health Services on campus, Teresa Barker, at [email protected]