This summer Averett's men's lacrosse team saw their first ever head coaching change in the young program's history. With the hiring of Bryan Habick, the team is looking to improve in their second season in the ODAC.
"Averett was an easy one," Habick said. "Everyone here is awesome, when I think about a place I want to work for, it's all about the culture and environment. Averett has that, all the people that are here have been very supportive of myself and my family."
Habick is joining the Cougars after 10 years of experience, His most recent job was head coach at St. Andrews University where he coached for the past two seasons at the division 1 level in the National Association of Intercollegiate Athletics (NAIA). He has also been an assistant coach for Wooster, Marywood and Capital Universities.
"Being around lacrosse so long I've been able to learn from many different coaches," Habick said. "It's about giving guys the opportunity be a better version of themselves. That's what life is all about, service. If you can make service your profession it makes each season that much better."
The Cougars have had fall practice for three weeks up to this point. In addition to practices and lifts every day of the week the team has been active in the community. Habick has created a relationship with Habitat for Humanity where the team can volunteer and build team chemistry.
"He has done a great job of making sure that everyone is bought into this season especially the freshmen," Connor Taff, senior captain attackman, said.
Habick takes over a young roster with only three seniors. There will be a somewhat clean slate for him to build the program for the future. Habick has scheduled the first ever fall scrimmage against two college club teams. Having a fall scrimmage will give the Cougars an opportunity during fall ball to understand what works and what doesn't.
"He has brought a terrific attitude that has seemed to have brought back my joy of playing lacrosse again after a long and hard season for me last year," Taff said.
Coming off a 3-11 record last season the team is putting in the work in the fall to prepare for the regular season starting in February.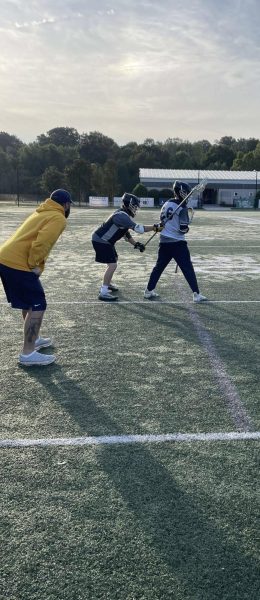 "It's all about making steady improvements on and off the field," Habick said. "Having meetings with the leaders every week to focus on team morale and environment which is the staple of the program. Having a positive environment will help us make those improvements. Last season the team was a couple goals away in games which would've been a playoff spot. This season we want that."
"I'm extremely happy to call coach Habick my new head coach," Taff said. "I'm excited to play this season and hopefully accomplish great things this season with him and my teammates."