As of 2023, Averett is offering a new minor in hospitality management and tourism for students.
Since hospitality and tourism is a growing industry around the world, this program was highly anticipated.
"I think there is a lot of excitement, not only here at this school regarding it as a new program, but it's very timely for what's happening in Danville and the region," Dr. Thomas Perugini, ao hospitality management and tourism program director, said. "There is a lot of excitement in the community about it between the city, tourism, and business owners. Everybody is excited that we are going to produce some professional leaders to be able to support the hospitality movement going forward here in Danville and the region."
There are currently eight courses being offered for the minor along with an internship. These courses, lectured by Perugini, include Introduction to Hospitality and Tourism, Lodging Operations Management, Food and Beverage Management, Practicum in Hospitality Operations Management, Casino, Resort, and Club Management, Meeting and Event Management, Facility and Design Management, and Hospitality Financial Management and Analysis. Each student must complete 21 hours of these courses.
With the current boom in tourist attractions around the area, such as the improvement of Downtown Danville and the installation of Caesars Casino, this minor offers an opportunity for students to get experience firsthand.
"I'm really enjoying it; it's been very informative. We have had a lot of opportunities to talk to real professionals in the field," Braden Lynch, a business major with a focus on hospitality and tourism, said. "As someone who transferred here for the tourism and hospitality program, I'm excited to see right out the gate it's starting very strong."
Additionally, this course prepares students for the world of professionalism and allows them to apply skills learned in the classroom to everyday life.
"Despite if I don't choose to go into hospitality or tourism (as a career) it's still going to give me that Chick-fil-A feeling, you know how they make people feel welcome," De 'Markus Tucker, a business major, said. "Even if I choose to be an accountant or something, I can help my CEO and they will let other CEOs know, hey, this is the one you want. He's not just going to sit there and be quiet."
While this program is new to the Averett community, there is hope that this addition will open students' eyes to the growing importance of the hospitality industry.
"It's a snowball effect. People will get positive feedback and realize exactly what the industry is all about," Perugini said. "There is a lot more to it than people think. There are just so many opportunities for people to have job placement, not only here in Danville, but in the country. It's the fastest growing workforce industry or forecasted to be over the next 10 years."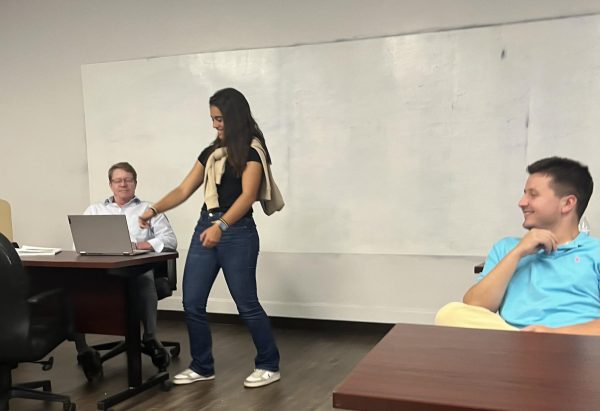 To learn more about Averett's new hospitality program visit: https://www.averett.edu/academics/majors-and-programs/undergraduate/hospitality-managemnet-and-tourism/