Each year, Averett welcomes hundreds of new students to campus. Even though we are only a month into the semester, Averett's freshmen seem to be adjusting to life on campus quickly. 
Roommates Ashlynne Williams and Theron Staub were part of the incoming freshman class. With both Williams and Staub being almost three hours away from home in New Kent, Virginia, moving to a college campus is a big change.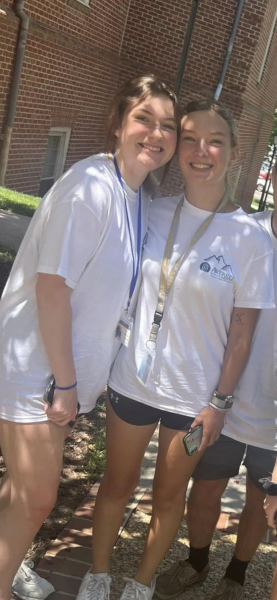 Williams, a freshman majoring in criminal justice and a member of the art club, had a positive first impression.
"Everyone was very inclusive and welcoming," Williams said. "It made me less fearful of stepping outside of my comfort zone." 
Almost every Averett student has been asked the question of "Why Averett?" Every student on campus has a different experience, but one thing remains in common, the small campus and welcoming environment.
Staub, a freshman majoring in equine management and a member of the equestrian team, chose Averett for similar reasons.
"After hearing many stories and coming here to tour the equine program, it just felt like how it is back home," Staub said. "I like the smallness of it because everyone knows each other." 
Averett's student population is around 1,000. Many students find that a smaller campus and class size allows them to be more comfortable and make friends easier. 
"So far, I have loved all of my classes and how amazing my professors have been this semester," Williams said. "I knew college was going to be a hard transition, especially the difference between levels of classes from high school to college, but my teachers have all been understanding and helpful." 
When living in the dormitories, students often form close friendships with other students in the same area. These friendships are something that students carry with them for the rest of their time at Averett. 
"As of now, my favorite part was getting to know everyone in my hall and creating friendships with most of them as well as in my classes, which makes my transition incredibly easy," Staub said.