Averett University Celebrates National Poetry Month
This April, Averett University is celebrating National Poetry Month. From recognizing work created by students to allowing anyone interested to delve into the literary world, National Poetry Month is a celebration you do not want to miss.
While April is recognized as National Poetry Month, this is a new addition to the Averett community.
"We started celebrating it last year in the library, and every year there is a different national theme that is selected," Jennifer Robinson, Averett University librarian said. "This year the theme is: "…we were all meant for something."
This theme also introduces students and those interested to a plethora of writing styles.
"This year we mostly highlighted authors that we thought were diverse and also might appeal to the largest number of students," Robinson said.
Most significantly, Blount Library welcomes anyone interested in an upcoming event.
"We have an event coming up on April 19 that will include two professors from Averett's Department of Language, Literature, and Culture (LLC), Dr. Catherine Clark and Dr. Charles Wuest," Robinson said.
Wuest is getting into the poetry month spirit by sharing some of his favorite poets.
"I do teach Chaucer and Shakespeare courses, and love their poems and other works very much, but there are so many examples of great poems," Wuest said. "A more recent poet that I would recommend is Sylvia Plath. She has so many exquisite poems; so much can be learned about poetry and the human experience by studying them. A few of her poems that are my favorites include "You're," "Metaphors," "Mushrooms," "A Winter Ship," "Mirror," "The Moon and the Yew Tree," and "Crossing the Water."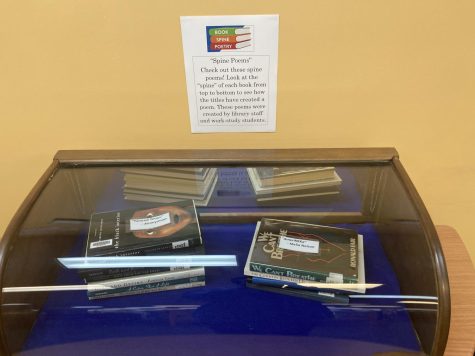 This event also allows students, faculty, staff, and community members to interact with the art of poetry in an informal setting.
"You can read some of your favorite poetry or something you have written that you want to share," Jessie Ross, library operations coordinator said. "I am encouraging my work-study students to share the spine poems that they made. Dr. Hughes (professor in the LLC Department) is also asking her students to create spine poems."
Further, this event recognizes the work of previous students and encourages current students to participate in writing poetry.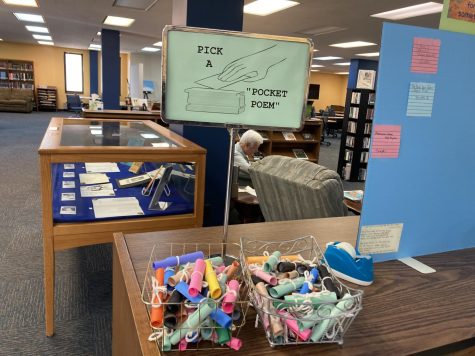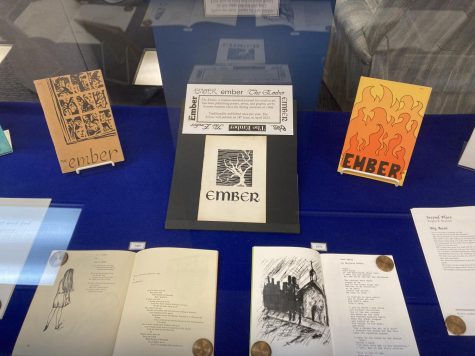 We featured poems from former students. We have poems from the 2018 and 2019 Ember on a wall display, as well as older Ember issues from the archives. We also have copies of the Ember that students, staff, faculty, and community members can take if they want," Robinson said. "We have a pocket poem that anyone can select to keep. They can also write the name of their favorite poems on our poster board or take part in creating a spine poem and we will put that on display."
While poetry month happens only once a year, the impact of reading poetry can last a lifetime.
"Poetry is one of the most powerful and ancient expressions of human feeling, and when we read poems that we love or learn to love through time and study, we find ourselves—as the poet Wallace Stevens wrote—"more truly and more strange," Wuest said. "Poems connect us with other cultures and other people, both living and dead, and they help us to re-see the world around us in new ways. Whether you are new to poetry or an experienced reader, I recommend reading poems out loud, because then you can feel the poem in your own voice and understand it even more clearly.
The poetry event will take place on Wednesday, April 19, from 4:30 – 5:30 p.m. in Averett's Blount Library on Main Campus.
To learn more about National Poetry Month, stop by Blount Library.