Completing a Successful Season: The Cougars are Wrestling Wild
Averett wrestling, like the other teams found themselves in a new conference this year. Unlike the change of competition from conference to conference like other sports, the wrestling team has faced some of the same teams in years prior because the USA south did not have wrestling. They were a part of the Southeast Wrestling Conference.  The Cougars finished the year with an 18-10 record and found themselves in second place in the ODAC. This team sent three wrestlers to the national competition which was held in Roanoke Virginia, March 10th  through the 12th.
Taking the job in 2019, head coach Blake Roulo has been leading the Cougars to national rankings, with spots as high as 15th during his young coaching career. While the Cougars saw some familiar opponents this year, they also traveled to 3 tournaments facing some ranked teams.
"As a staff and as a team we really look forward to wrestling the high-level competition," Sam Braswell, an assistant coach and former all American at Averett said. "We are always stuck between top 15 and top 25. We went to National duals this year and got it handed to us. I think it was good for us, it showed the guys what it takes to be an all-around team. We are taking steps to consistently reach the next level."
While some of the goals for the Cougars may not have been met, there are still some building blocks for next year. Sophomore All-American, Mason Barrett was one of the three wrestlers the Cougars sent to the national championship tournament is the headliner of an exciting sophomore class for the Cougars.
"We aim high, we miss high," Braswell said. "Most of our guys are going to be juniors next year and have learned a lot through adversity this year. All our starters had solid years. But at the same time, some of our non-starters had good years. Beating guys, they weren't supposed to be beating at times. Which gives us a lot to look forward to, losing two of the guys we sent to the tournament in Hai Sue and Alex Turley."
Barrett had a record of 25-7 which propelled him to a 6th place national finish in Roanoke. Wrestling in the 125lb weight class, his freshman year he was behind Braswell in the depth chart but took that year to learn from his future coach.
"Our practices and preseason are very hard," Barrett said. "We start training for the season in September and my coaches helped me a lot by, wrestling me in their free time. As well as pushing me through workouts I wouldn't want to do."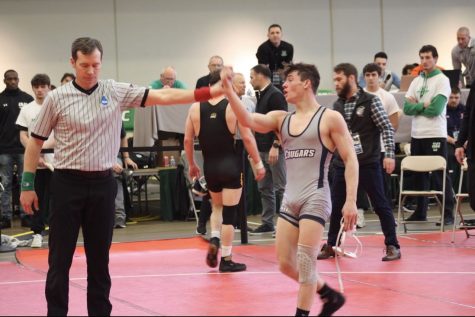 The Cougars are satisfied with their performance this year but are still hungry for that top spot. With their only conference loss coming to Washington and Lee University. The young Cougars have a bright future in store.
"Being an All-American has been one of my life goals," Barrett said. "But it's still not enough, next year I want to train harder and win Nationals."