Averett Students Campaign for Skin Cancer Awareness
With Spring and Summer fast approaching, students will be expected to enjoy the fresh air and sunny skies. However, the more students spend their days outdoors, the more they are exposed to the sun's harsh rays. In fact, too much exposure can severely harm your skin and can even lead to more serious developments such as skin cancer. But only if you don't have the right protection.
Averett's Associate Professor of Communication, Dr. Susan Huckstep, stated how important it is for students to wear sunscreen and hats when they are young.
"I know when I was in college, I didn't think much about sunscreen or wearing a hat or wearing protective clothing," Huckstep said. "I really wish that I had thought more about that because what I didn't realize was that the decisions that I was making at that young age would affect me so much as an adult."
Because of this concern, one public relations class is attempting to spread skin cancer awareness throughout Averett's campuses. The students will do this by writing online articles, setting up information tables, posting on social media and much more.
"We'll be attacking this from multiple angles," Huckstep said. "We're working on putting some flyers up around campus as reminders. We're working on some public service announcements that will be delivered during outdoor sporting events. We're getting some videos that could possibly be shared on social media but perhaps also be included on Averett webpages."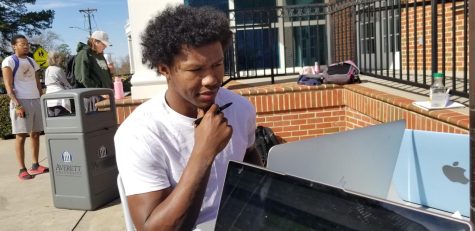 Bryson Mclaughlin, a senior, majoring in organizational communications reflected on the research he did for the campaign.
"I had no clue how that it [the sun] could do things like that," Mclaughlin said. "If you got burnt to a certain degree that your skin starts blistering up, that you are already exposed to skin cancer. I had no clue."
While researching, Mclaughlin found startling statistics about who could develop skin cancer. He discovered that anyone could – no matter their age, gender, income or race.
"One of the misconceptions is that if you are African American, then you can't get skin cancer. Which is false, because you can," Mclaughlin said. "That was one of the things that we always thought – that the melanin would protect you. It does to a certain degree, but you can still get skin cancer from it."
Mclaughlin also reflected on the positive and negative effects of certain habits people have had throughout the years and how some of them have eventually led to cancer.
"Most of the time, you don't know things are harmful until 50 or 60 years after the research is done on that group of people that have been living during that time," McLaughlin said. "There was a specific point in time where everyone was smoking cigarettes and they thought that cigarettes were cool. And then you find out that cigarettes cause lung cancer. People have been playing in the sun since the beginning of time and I'm sure that they didn't think that they would be harmed from it. It has positive effects such as vitamin D but it also has negative effects like skin cancer."
Mclaughlin then reflected on how easy it can be to find yourself in a sunny area and how it is just as easy to protect your skin.
"It's something that we've been doing that we don't really think about as we do it," Mclaughlin said. "We just go sit outside but don't really think about getting hit by the sun…It's just stuff that we do effortlessly and unconsciously. Just raising awareness about it and hearing it over and over again will shed a light on it and kind of make you be more aware of it. Like 'oh, I'm sitting in the sun. Let me go sit in the shade. Let me put a ball cap on. Let me put sunscreen on.'"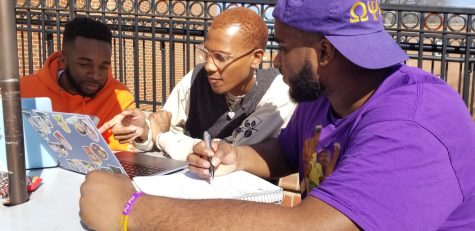 Huckstep also revealed how important and personal a project this was to her.
"My father actually died from Melanoma this is a very personal issue for me and I don't want to see that happen to any other Averett students," Huckstep said. "I'm looking forward to this class raising awareness and helping other students understand that it really is important. And it just takes a few minutes to protect yourself."
Huckstep hopes that her students will be the example moving forward in this campaign.
"I hope that as part of the learning process, the students in this class will also begin to understand the importance of wearing sunscreen and start modeling that behavior for their fellow students," Huckstep said.
The class hopes that students will take notice of the changing weather and try to keep their skin looking healthy.
"Beautiful weather is coming and Virginia weather is crazy," Mclaughlin said. "You could have a day in February where it is 30 degrees Fahrenheit and then have a day like today where it's in the 70s and the sun is out and bright…Just try to stay protected from the sun. Use shade, hats, sunscreen, etc. Even most of your lotions have sunscreen in them – just check the labels. Even your lotions and moisturizers can be viable in helping protect you from the sun."
Averett's advanced public relations class advises you to wear your sunscreen and protect your skin. And be sure to look out for more information and posters about the dangers of skin cancer on campus in the coming months.