AU Adds Men's Volleyball, Earls Tapped as Coach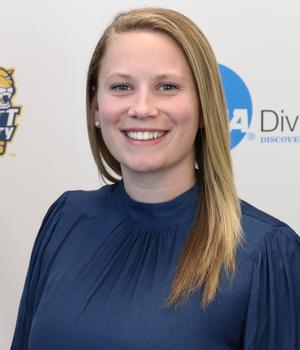 Averett Athletics continues to expand their programs after joining the ODAC last fall. The addition of men's volleyball was announced on February 1st. This new sport will be the second addition of a sport, in two years for the school, with track and field in their inaugural season this year. Coach Olivia Earls led the Cougars to the ODAC championship in her first season as the women's volleyball coach and will be the new head coach of the men's team as well.
"I am very excited for the opportunity," Earls said. "We want to come into the first season with a competitive team. I want to be taking wins away from the established schools that we will be competing with."
Men's volleyball has been growing at the college level, more specifically in the ODAC with schools such as Randolph-Macon being one of the top schools in the nation. Following Roanoke and Virginia Wesleyan, Averett will be one of three schools adding a men's program in the next two years. Because men's volleyball is not currently an official ODAC sport, Averett will be in an independent league with the other ODAC teams.
"With some competitors being close to us," Earls said. "It will help us grow as a program and hopefully with the addition of Randolph it will be a ODAC sponsored sport. But because we are independent, so we will be able travel to compete against some NAIA schools and some Division ll schools."
Unlike other male-female sports which seasons take place at the same time, men's volleyball runs from January to April.
"One of my biggest goals for both programs is to build a support system for both programs," Earls said. "We obviously have men's and women's sports such as soccer, lacrosse and basketball that have that brother sister bond. Because the seasons are at different times it allows both teams to be able to work each other's game and build those bonds."
Coaching two college sports sounds like a difficult task for anyone. For Earls it's more of an opportunity.
"Being able to coach both credits a lot to what we are doing with our women's program," Earls said. "I feel very supported by Meg Stevens our athletic director, to accomplish creating more seats at the table of opportunity for young women. Making it more normal for people to see women coaching men, will be very pivotal for the sport and program moving forward."
Students interested in the men's volleyball program should contact coach Earls and attend the interest meeting in this coming March. Which would be followed by an open gym for students.
"There is a really bright future for this sport at Averett," Earls said. "Obviously we are excited for current students that are wanting to play who are fall athletes or not athletes at all. It is a great opportunity for students to be a part of something. We already saw how well the track team did in drawing current students."
A new sport for Averett gives students one more opportunity to support the athletic program and their fellow students.
"The addition of men's volleyball would be great for students," Fermin Borbua-Watson, a junior on the men's basketball team interested in joining the new team, said. "Because of the one team culture we have at Averett, I think all athletic teams have an opportunity to welcome this new sport."