History Today Podcast Connects Students to the Danville Area
Averett University's history department is getting up close and personal. The newly developed History Today Podcast creates a space for students to connect class material to the Danville community as well as to their families. Created by assistant history professor Dr. Jonathan Sherry, the podcast allows students to apply knowledge learned inside the classroom to their immediate surroundings.
"The main reason I wanted to launch this project was to find a way of turning the work that we do in the classroom outward so that people in the community could, even if they aren't able to take part directly in the classroom, be able to see what we're doing," Sherry said.
Further, the goal of the project is to allow students to have a deeper understanding of the major world events taught in class.
The first series of this podcast consisted of students in Sherry's fall 2022 course, Europe during the World Wars, in which students interviewed Danville locals who have been impacted by the wars or their family members. After doing research, students discussed what they found on the podcast. The second series involving spring 2023 students in Sherry's Europe in the Post-War class, will focus on how the Cold War influenced the area.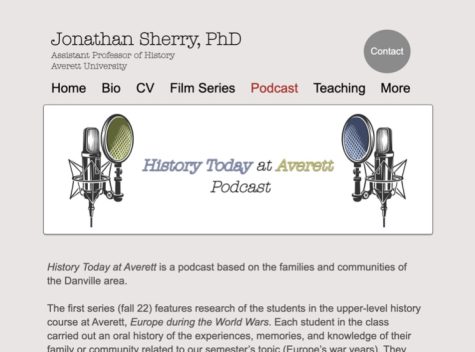 Above all, Sherry feels that the project will help students get first-hand experience with the world of podcasting and will hopefully connect Averett to a broader audience.
"I just want to create a platform where they (students) can just come in and talk to me for a half hour about it and we can post it on the website and anybody in the country can check it out and see what's going on at Averett," Sherry said.
Along with getting students involved with the Danville community, the project brings past historical events closer to home.
"I think the project has given them (students) not more urgency, but there is a little bit more importance. One of the students and I'm thinking of one in particular, was very emotionally affected by their research into their family, just because it revealed a lot of stuff they didn't know," Sherry said.
While the podcast is still a work in progress, there will be more to come soon.
"I have plans to expand the podcast and have different series," Sherry said.
To learn further about the History Today Podcast send Dr. Sherry an email at  [email protected] and check out his website where the podcast can be found https://www.jonathansherry.com/