Averett Volleyball Completes First Season In The ODAC
Averett University's women's volleyball team finished with an overall record of 20-11 and 10-2 in conference earning them the 2nd seed in playoffs. 
 "I think that our overall team chemistry led us to do so well in our first season of the ODAC," Morgan Barnes, a senior middle hitter said. "We came in with a new coach that knew the conference relatively well, and we definitely used that to our advantage."
With the Cougars having the 2nd seed they were able to take down Eastern Mennonite University 3-1 in the Grant Center to move on in the tournament.
"Having the home court advantage was unreal, especially with it being our first year in the ODAC," Erin Gray, a junior libero said. "We have the absolute best crowd around and their energy helps us more than they know!"
With a huge win under their belt the cougars had a lot of pressure as they faced Washington and Lee University where they had an outstanding match winning 3-1. 
"There definitely was a little bit of pressure because we want to defend our house, but at the same time it's also relaxing knowing that we have our fans backing us and at home is where we perform best," Gray said. 
The Cougars went into the ODAC championship game against Randolph College. Despite their hardest efforts, Averett took a 3-0 loss with each set ending within 2 points. 
"For our first time competing in a completely new conference with a relatively young team with a new coach, we accomplished so much," Barnes said.

Even though Averett did not win, they had a few awards given at the end of the year.
Sara Marlowe – First Team All Conference
Erin Gray – First Team All Conference 
Morgan Barnes – Second Team All Conference
Head Coach Olivia Earls – Coach of The Year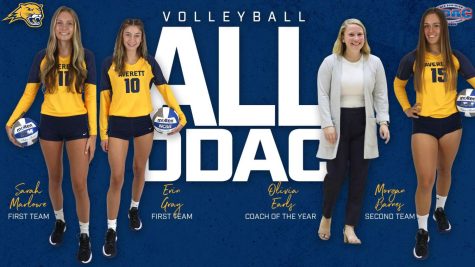 "Winning coach of the year in my first year as a head coach definitely helped confirm that what we are doing here at Averett is working, but I know this award couldn't be possible without our team, athletics staff, and the Averett community," Olivia Earls, Head Volleyball coach said. "This award goes way past just myself and I think that is why it means so much.
This year will be put in the record books for Averett as the first year in the ODAC with a very successful year for the cougars. 
"This year was all about opportunity for myself and our team. The opportunity to play against elite competition, the opportunity to make history, and the opportunity to begin something new," Earls said. "As the season wrapped up on Sunday we knew we had so much to be proud of. While the ending wasn't what we wanted it to be, the standards that we set in our season are definitely ones to celebrate and build off of."
The cougars had an outstanding season that will certainly go down in the record books as one of the best volleyball season's Averett has had in the ODAC.
"We would just like to thank all of the Averett community for their endless support this season. To have the opportunity to play in front of a crowd such as ours is a unique opportunity and we are blessed to be able to call Averett home and we look forward to getting right back to it next fall."
– The Averett University Volleyball Team.