Catching Up With The New Athletic Trainer In Charge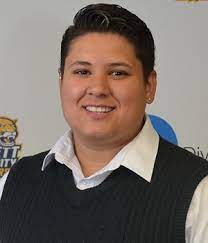 During the summer, our very own Maria Ochoa received the nod for the head athletic training position here at Averett University. The position opened up after longtime Head Athletic Trainer Thomas Underwood moved to faculty during the summer of 2022. Ochoa is no stranger to Averett, she received her degree in athletic training from Averett in May 2019 and also received her masters of education degree in May 2021. Ochoa was an assistant athletic trainer at Averett prior to her promotion.

With going from an assistant athletic trainer position to a head athletic trainer position there are some big changes that come into play. 
"Last year as an assistant athletic trainer I wanted to be challenged; stepping into this position I definitely have been challenged," Ochoa said. "The student athletes have been amazing during this transition and very receptive to change."
Ochoa came into a situation that was less than ideal, but she made the most with what she was provided. 
"The biggest change as the head athletic trainer has been being short staffed, in previous years we have had five athletic trainers on staff, this fall we started out with just Cody Hammock and myself until the middle of September," Ochoa said. "Luckily we added Natasha Blakley shortly after, and Grey Capozzoli as a sports medicine intern in October. Overall, I believe that we have done an exceptional job with working with what we have."
Throughout her time as head athletic trainer Ochoa has some goals that she wants to accomplish. 
"My goals for this year being the head athletic trainer are to continue to be a catalyst for positive behaviors," Ochoa said. "My overall goal is to have a full staff; we are still looking to fill 2 assistant athletic trainer positions."

Despite all the stress and challenges that have come from the transition, Ochoa still finds the same love for the job as she had from the start. 
"I always thought that the saying "if you love your job, you will never have to work a day of your life" was very cliché. However, now I can completely agree to it," Ochoa said. "I thoroughly enjoy every aspect of my job, from communicating with the coaches, to setting up fields, to even sitting in meetings. Averett has provided me with a great foundation that I plan to build on to enhance our growth."
Ochoa has already impacted so many lives of the student-athletes that have come through Averett and continues to impact student-athletes on a day to day basis. Ochoa is deeply loved by Averett athletics and the ceiling is very high for her future as a head athletic trainer.