Facility Fixes and Updates Coming to Campus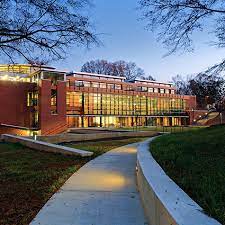 Averett's campus has gone or is going through a various amount change. Returning students may have seen some of the changes made over the summer such as new paint in Fugate or different lounging areas around campus. The facility team that manages these projects is led by Facility Director Bruce Devlin who has been at Averett since 2020 and has been a director of facilities for 24 years.
Everything on campus from maintenance orders to new hammocks around campus are worked on by Devlin and his team. One of the projects is the the top floor of the Student Center where there is an outdoor lounge area in need of repair.
"We are putting new stone in, as well as fixing the floors and installing new handrails. To make it a safe enjoyable space for students to go out on. It will be a good outdoor lunch area for students. This project will be started in the weeks to come," Devlin said.
This is just one of the projects that the team is looking to accomplish in the coming months.
Devlin's team wants to make new projects for students to enjoy. However, having only 27 people and managing all of Averett's campuses. It can be difficult to find free time for these projects.
"We bang out about 400-500 work orders a month. Taking care of main, equestrian, airport, and north campuses. Everyone thinks we have 100 people, and we just don't." Devlin said.
Having an older campus comes with a lot of work being put into it. There are minor details that some people wouldn't even consider a problem such as locks on doors or different lights around campus to save energy. All of these items are on Devlin's radar.
"This (lock) system is so out of date and is failing. The new system is a continental system which will allow students to have a one card system for all doors. We will be replacing all exterior door locks in November of this year," Devlin said.
These changes are just some of the new things to look out for while walking around campus. The team puts a lot of work to make our campus a nice, safe, place for students to live in and enjoy.