Cougar Football Back in Action
Football season has officially started, your Averett Cougars look to start the year off right with a good performance. This year is one of the biggest for the team, as they try to make a statement in a new conference.
"Fans can expect to win; we expect to compete," Co-Special Team's Coordinator and Defensive Backs Coach Ka'seim Black said. "We have a good group of seniors, obviously having our senior QB (Bryce Jackson) and leaders back on defense, will help us compete on both sides of the ball."
Black knows how important special teams play is to the success of any football program so the Cougars will be looking to excel in that area.
"Special teams are very important, anytime there is a kick play, return play, you are trying to score a touchdown or prevent a touchdown. One seven second play can change the outcome of the game."
"Special teams are the best unit we got," Black added.
Putting the other team in bad situations can help boost the Cougars and give them motivation throughout the game. The leaders of the special team's unit (Will Caviness & Mason Smith) will help the Cougars gain momentum.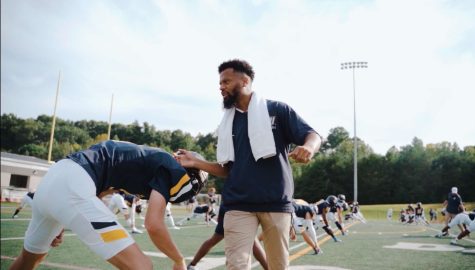 Isaac Mosby, a fifth year defensive end, believes they have a strong and cohesive team.
"In the past we haven't locked in as a team, but now everyone is clicking, and we eliminated all the individualism," Mosby said. "The locker room just feels closer together."
Averett has  strong group of sophomores who have grown more comfortable in their roles.
"I don't need to learn as much of the playbook," Wesley Wright sophomore cornerback, said. "I can focus more on buying in, and doing my part for the team, like Isaac (Mosby) said."
This year is a little different for the Cougars, after graduating 34 seniors last year. They brought in a bigger freshman class, than they have before. This can be a good thing for the Cougars but getting them acclimated to the culture can have its challenges.
Mosby s"It's different this year. Going into years prior, we know who we had. Having to meet half a team was difficult at first," Mosby said. "But getting them to buy in is the most important part. The leaders on our team are good at showing the ropes as far as what's right and wrong."
Wright agrees. "It's all about respect, and following the people who have been here before, listen to coach, keep our head."
Both players are confident that the future of the Cougar football team looks bright.
"When we are firing on all cylinders no one can beat us," Mosby said.
Overall, the Cougars are prepared to join the Old Dominion Athletic Conference(ODAC) and win games. Getting the team on the right page will prove to be the difference makers in games to come. All three sides of the ball have strong leaders that can get the team to where they want to be, which is at the top.