Maleek Pulliam, a senior who can do it all!
Maleek Pulliam is a fifth-year senior at Averett University. Pulliam is captain of the football team, member of the Captains and Leaders Council, RA, member of the National Bonner Leaders Program, member of the Brother4Brother club and a Presidential Ambassador. 
"I learned about these clubs and programs shortly in my first two years," Pulliam said. "I became a captain of the football team my junior year and an RA and Presidential Ambassador my senior year."
Over Pulliam's career playing football here at Averett, he has helped lead the team to a record of 26-16 over his five years. 
"My coaches have been a huge part of my career. They have influenced me to be just as great as they've been to athletes in the future," Pulliam said. "My family has also always been supportive of my collegiate career."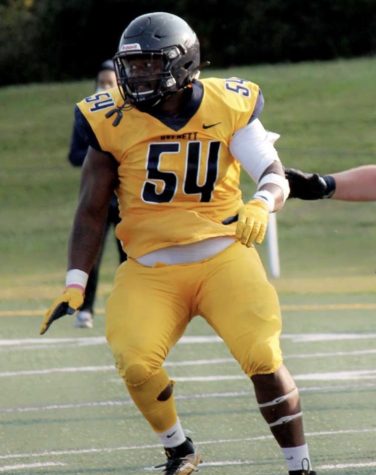 While at Averett Pulliam has been a part of all the different programs and clubs including the Brother4Brother program which is a success-focused program in which young men learn to conduct themselves in a mature manner, discover ways to engage themselves in the Averett community, and beyond. They develop the skills and attitude required to be successful both at Averett and in their chosen career. 
"Averett has given me the opportunity to lead and become a mentor for my peers and teammates with all the wisdom and wisdom that has been passed down to me," Pulliam said. "From football to clubs and organizations, I was always around people who shared similar experiences."
With all of these activities on Pulliam's schedule, he has to find time for all of his schoolwork, football practices, and games, as well as activities through the club's extracurricular activities he's in. 
"I'd be a liar if I said I have everything figured out, but being surrounded by great friends, coaches, and mentors has motivated me to be the best I can be. As long as you communicate effectively and produce the effort, there's nothing you can't do."
Through his five years at the university, Pulliam has had to battle with many significant changes to his life on campus. 
"I think the biggest thing that has changed my experience here at Averett was perspective," Pulliam said. "Things could change at any given moment, so you have to take advantage of opportunities you have at the moment. You can't wait to try to do more when it's too late. You can always do more even when given less time."
Pulliam will graduate in December with a bachelor's degree in PE: Coaching. He leaves behind an amazing legacy and a lot of lessons for the younger students behind him.