Averett Men's and Women's Basketball Season Preview 
Men's Basketball 
The Averett Men's Basketball Team is looking forward to having a successful season this year. Last year the team made it to the conference championship and the year before that they were conference champions. The team grew a lot and gained a lot of knowledge from the past season. 
"Things I learned from last season is that everything counts and all the big and small details matter. Someone taking just one play off on offense or defense could cost the team the game,"  Keshawn Lewis, senior point guard, said. 
The team has been preparing since August to start the season and they have big goals that they want to accomplish. 
"This season I want the players to grow into a synched group of young men working towards the same goal and in the end hoping that it will result in a championship," Assistant Coach Brandon Baker said. 
Last season there were no spectators allowed at any indoor sporting event in the USA South Conference because of Covid-19. 
"The thing that excites me most about this season is having fans back in the stands. I used to take something like that for granted because I was just so used to always having fans in the stands but, after the COVID season last year it made me appreciate the small things," Lewis said. 
The coaches are equally excited about having a season that is closer to "normal."
"That we will have a normal, full season — being able to prepare and compete for more than just a few games, being able to watch these student-athletes grow into more mature young men and better basketball players," Baker said.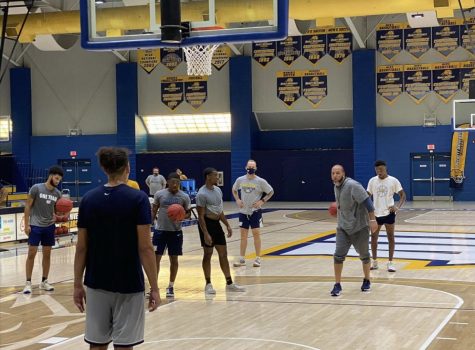 Women's Basketball
The Averett Women's Basketball Team is expecting to have a great season. With new head coach Desireé Driver and new Assistant Coach Ric Yarbrough, the team plans to have a shift in its culture. Jordyn Kloster returns for her second year as assistant coach along with several key players who are returning in hopes of a winning season.
Many things were learned from last season and the team plans on using what was learned to improve this season. 
"Things that I've learned from last year is that in order for us to consistently win we need more effort/focus on the defensive end. We must value the basketball, and play with intensity," Camryn Lunsford, senior point guard, said.
Just like the men's basketball team, the women's basketball team has been preparing since August to start the season and they have big goals that they want to accomplish. 
"We want to be better every day. We plan on using the year to build team chemistry, get good grades in the classroom, and compete every day. We will accomplish this by bringing our best every day athletically and mentally,"  Assistant Coach Kloster said. 
The team has many different things to be excited about going into the 2021-2022 basketball season. 
"I am excited about our new coaching staff, parents/friends being able to come support. It being my senior season, and it's our last season in the USA South conference so we're going to finish with a bang because we plan on getting a ring this season," Lunsford said.