Averett Volleyball is Looking Strong Midseason
After coming off last year's win in the division championship, Averett's Women's Volleyball team is off and running through this season with a record that stands at 10-3 (as of publication time).
"I think we began the year with a lot of motivation as well as having the benefit of a lot of returners. This gave us the ability to start off strong and play well from the beginning," Head Coach Danny Miller said. "I think as you go through any season you face times that you are on top of your game and then times that maybe things aren't going as well. The key is to keep working hard and find those things that you can build on and help your team succeed."
As of midseason, the team is tied for 3rd in the USA South East Division.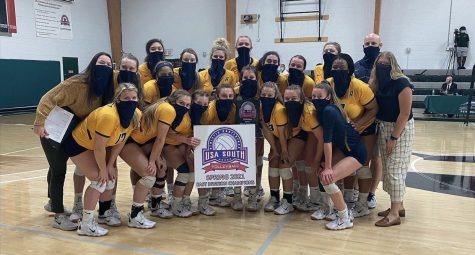 Sarah Shropshire, a senior volleyball player, leads the team in kills with 169, as well as 181 points, and she also has been awarded USA South player of the week 2x this season. She has high hopes for the remainder of the season.

"With our strong start to the season I'm looking forward to our team continuing to push ourselves to play at our level," Shropshire said." Once we achieve that we will be unstoppable."
The Cougars have an experienced core of upperclassman along with the addition of five freshmen.
"With having a lot of returners, so I feel like our chemistry is stronger than in years past. Strong chemistry helps drastically on the court," Shropshire said. 
Shropshire added that she and her teammates are excited to welcome fans back to the Grant Center this season.
"It creates a lot more energy, and it's awesome to see the support from all of our family, friends, and peers," she said.

Visit www.averettcougars.com for the volleyball schedule and more.