AU Students Get to Work with Part-Time Jobs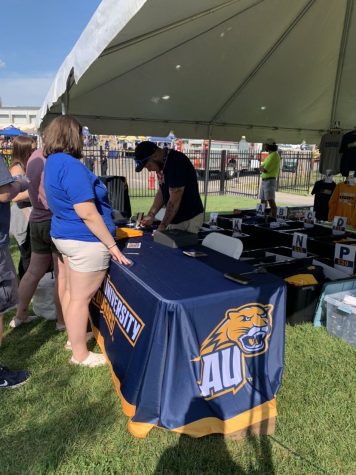 There are many on and off-campus part-time jobs available for students who are interested in increasing their personal skills, have extra time on their hands, or just want to earn a little extra income. 
Senior biochemistry major, Zamiyah Mangum has two part-time jobs on-campus. She is on the work-study for the volleyball team, and she is a student ambassador. 
"I enjoy work-study for the volleyball team because I have been doing it since freshman year. It's a more simple way to earn money while in the season because I do the laundry for the team," Mangum said. "I also enjoy being a student ambassador because I give tours to people who are looking to come to Averett. I love to talk about how great Averett is and how much of a huge impact this university has had on my life."
Students are often concerned that having a job and being a full-time student will be strenuous. Mangum is a full-time student and a student-athlete managing two part-time jobs and enjoying what she does.
"I manage work and school really well because with the volleyball work-study it's usually after practice I do the laundry so it works with my class schedule along with my practice schedule," Mangum said. "With the student ambassador job, they schedule tours based on my class schedule so it is very easy to work with."
Having a job and being a full-time college student may seem to be a difficult feat, but, with organizational skills, it is very possible. 
"I have an online schedule, a written out planner, along with a whiteboard in my room to write all my things down that I have to do, so that is very beneficial!" Mangum said.
There are many part-time jobs available on and off-campus. On-campus jobs include positions in the dining hall, such as baristas, cooks, bakers, supervisors, dishwashers, and station attendants. There are also part-time jobs available in the bookstore. Hallmark and various restaurants around town are all hiring part-time positions, as well.
For more information or to apply for part-time jobs, visit the CCECC, https://averett.joinhandshake.com/, or contact Billy Wooten at [email protected] or Angie McAdams at [email protected].edu.