Coming Soon! 2021 Graduation Reimagined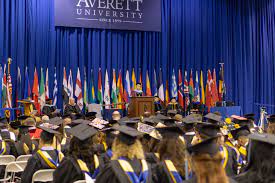 As the end of the school year quickly comes to a close, the seniors' eyes are on graduation. However, due to COVID, Averett University is planning to hold Spring commencement a little differently. Despite the changes, President Dr. Tiffany Franks assures that graduation will continue on as planned.
"Commencement is the most significant milestone in our graduates' lives typically at this stage in their life," Franks said. "And we so committed to celebrating commencement in the safest and most meaningful way possible."
2021 Spring Commencement will begin at 10 a.m. on Saturday May 8th. It will be held outside at the Frank R. Campbell Stadium on the North Campus and be live streamed. This way, graduates and their families can choose which option they prefer.
With this new information, many students, such as Grayson Eaton are very excited to graduate.
"I already have so many things going for me in my career field and I'm just ready to put my focus towards that," said the communications major. "I wouldn't have had those opportunities if it wasn't for Averett so I am very grateful."
For others, like Afia Nyantakyi, this significant event is a bittersweet one.
"It's so surreal." Nyantakyi, a computer science and computer information double major, said. "I am happy that I am done with school but it feels like everything flew by so fast. I need more time to process."
Families and faculty can also look forward to having Colonel Kimberly Campbell as this year's guest commencement speaker. Hailing from Honolulu, Hawaii, she is a fighter pilot active since 1998. She is also a faculty member at the United States Air Force Academy.
"Her message is one of courage and resilience," Franks said. "Which is exactly what this time has been for our graduates."
Franks also hopes to have (within the regulations) up to 950-1,000 people in the Campbell Stadium. However, stricter social distancing guidelines and more intense cleanings will be set in place. Due to these guidelines, graduates who chose to attend the ceremony in person will be allowed two guest tickets.
"I feel like the way they're doing it (Commencement) seems okay, but I wish we could have a few more guests. Most people have siblings and I don't think that two tickets per person is enough," Nyantakyi said.
"Grandparents and siblings want to attend too," Eaton said. "I think that four tickets per person would be much more sufficient."
But in the end, no matter the decisions and circumstances, this is sure to be a graduation that the seniors will never forget.
"I am so grateful for my experience here," Eaton said. "I just feel like this part of my life is over and I'm ready to move on and take the next step."