Averett´s Advanced Broadcasting Class Participation in the NPR Podcast Competition
In a month you might hear of the Averett student/students who aired on  National Public Radio (NPR) due to their brilliant podcast creations. This is a possible result, as Dr. Humphries` advanced broadcasting class took the role of professional podcasters as they prepared for the yearly NPR Student Podcast Challenge.
"This was a perfect match for the advanced broadcasting class and a cool way to start the semester." Dr. Zachary Humphries, instructor of communication, said.
This is the first year where college students are able to compete in the NPR Student Podcast Challenge. The challenge created by NPR states that students will create a podcast about a topic they want to explore. They invite the participants to use their imagination to intrigue the listener, as the topic can be just about anything.
The project is a unique opportunity as it adds an incentive as the class was submitting it to a professional organization. It is possible to mirror this in a class setting, however, it would likely not be as meaningful. In addition, the fact that this is submitted to a professional organization amplifies excitement and quality from a student's perspective.
"The NPR podcast was my first time creating my own content and the experience overall is something I am really thankful for," Mackenzie Allin, a senior majoring in sports medicine and minoring in communication, said. "It showed me that I am capable of the dreams I have in the back of my mind and I look forward to creating similar podcasts in the future."
The podcasts were submitted to the NPR team where they will pick two winners. Therefore, this project does not only give you a hands-on experience as you work towards a good grade, but it also allows you to build your personal brand and career within podcasting while still being a student.
"This really met my expectations and I hope we get a winner," Humphries said. "We took our time with it and really made it about the process. We did a lot of peer-reviewing where the students provided each other with great insight and advice, as well as we spent a lot of time recording and editing the project."
A date to look out for is March 29th, 2021 as that is when the NPR team will publicly announce their two winners.
"Everybody did extremely well, I am excited and looking forward to March 29th," Humphries said.
For more information about the NPR Student Podcast Challenge, visit:
https://www.npr.org/2020/12/01/940346955/nprs-student-podcast-challenge-opens-for-college-students
About the Writer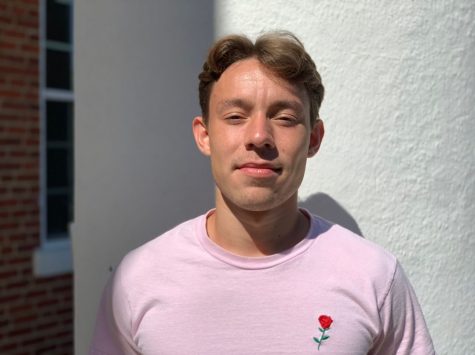 Baste Endresen, Staff Writer
Baste is a junior, international student coming from Bergen, Norway. He is majoring in Sports Communications with a dream of working in TV covering soccer...