Averett Student's Take on the COVID-19 Vaccination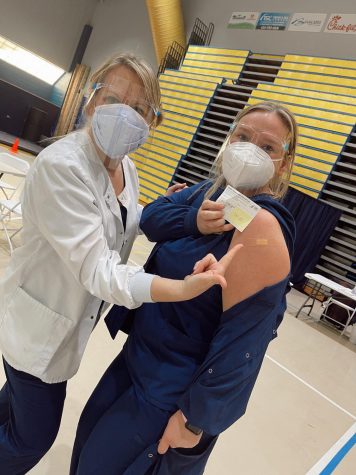 As cases of COVID continue, the rush is no to vaccinate as many people a possible and Averett is doing its part. On January 23, Averett held an event where nursing faculty and nursing students were able to administer the vaccine to people aged 65 and older. 
Junior nursing student Alyssa McNeil was able to administer the vaccine to members of the public at the event.
"Volunteering at the vaccination clinic was a wonderful experience,"McNeil said. "We were able to provide vaccinations for the at-risk populations including the elderly population, frontline workers, and those who are immunocompromised. It felt really good to give back to the community in an effort to stop the spread of COVID-19" 
McNeil emphasized her belief in the benefits of the vaccine for Averett students.
"The vaccine could affect our campus by slowing/stopping the spread of COVID-19." McNeil also chose to receive the vaccine on the day of the clinic. 
The benefits of the vaccine are different for all Averett students. An unscientific poll was recently conducted on The Chanticleer website where students could vote if they would or would not receive the vaccine. The current results demonstrate that with 89 total voters, 92% would not receive the vaccine, while 8% would.
Despite these results, there are students who feel that being vaccinated is important for their personal safety.
"I feel like the vaccines would be beneficial for student-athletes because if the vaccine works as it's tested it will make the environment overall a safer place for student-athletes when practicing and playing in games,"Kris Richmond, a junior student-athlete, said. Richmond added that he would receive the vaccination because he is confident in the safety benefits. 
For more information regarding COVID-19 vaccination, visit https://www.cdc.gov/ to view guidelines, schedules, ingredients, and more.