Entertainment for the Upcoming Holidays
The extraordinary fall 2020 semester is closing into its end, as the holidays are right around the corner. As the country and the community are still working towards the end of the current pandemic it is likely that the holiday will consist of similar precautions to the 2020 summer break, and students might find themselves situated at home to avoid spreading and infection of COVID-19. Luckily, this might be easier this time around as many say that the holidays of Thanksgiving and Christmas are meant to be spent at home with family. If this is the case, and you find yourself somewhere cold during the holidays, you will most likely prefer to snuggle up in a warm home with a warm drink as they look out on the cold days of December anyway.
In this article, you will find means of entertainment to keep your holiday joyful, suspenseful, or adventurous, as we try to provide you with the movie/series that fit your holiday mood.
Upcoming shows and movies
The Mandalorian Season 2 (Disney+)
Even though the latest Star Wars movies such as The Rise of Skywalker might have divided both audiences and critics, The Mandalorian season 1 united most viewers as it led the Disney+ promotion with its first season. The much-known series creator and screenwriter Jon Favreau ("Iron Man", "The Jungle Book", "The Lion King") draws his inspiration directly from the original trilogy, and leads us into familiar places, with similar character types and a battle between the good, the evil and everything in between that evokes good associations to the Star Wars universe.
The Mandalorian is seen by many as a gift package for old Star Wars fans and is good enough to create some new ones. The highly popular show launched its season 2 on October 30th and is currently streaming episodes on Disney+.
Free Guy (December 11th, 2020)
Free Guy is an action-comedy with Ryan Reynolds in the starring role. The movie revolves around Guy, a bank teller who becomes aware that his world is a video game. Guy moves on by takes steps to become a hero within this digital world while racing against time to save the game before the developers can shut it down. This movie can be a hit or miss, however, Reynolds is known for his enormous talent by making his audiences laugh through his unique utilization of sarcasm, tone of voice, and looks. It will be exciting to see how this movie plans out.
In search of the Christmas spirit
The Holiday (Amazon Prime and Netflix)
The Holiday is a romantic comedy well represented and related to Christmas. Without spoiling anything, Kate Winslet's character has a broken heart and lives in a small cottage in a small English town. To get away, she swaps houses with the rich, but also the heartbroken character of Cameron Diaz, who lives in Los Angeles. In the fairytale of these two women looking for peace of mind and happiness, they stumble upon some unexpected people and events. In conclusion, this is a safe, sweet, and fun movie that the whole family can watch together.
National Lampoon's Christmas Vacation / Christmas Vacation (1989)
This is a classic Christmas comedy starring Chevy Chase as the leading role Clark Griswald. Griswald does his utmost to create a good, old-fashioned Christmas mood, however, he stumbles upon some problems relating to his annoying relatives as well as his Christmas decorations. To say the least, nothing lives up to his expectations.
This is a fun Christmas movie with warm characters, warm humor, and tons of Christmas spirit. The film is written and produced by John Hughes, who two years later created another great Christmas classic, namely "Alone at Home" who is also highly recommended during the holiday season.
Die Hard (1988)
This is the action movie that defined the genre in the decade that followed and made Bruce Willis a superstar. The plot revolves around New York cop John McClane (Bruce Willis) as he attends a Christmas party with his wife in the Nakatomi Plaza skyscraper in Los Angeles. McClane´s abilities are put to the test as terrorists occupy the building under the leadership of Hans Gruber (Alan Rickman). Just from the title, you can expect that explosions, shooting, and violence are following the unfortunate circumstance they find themselves in.
It is discussed if this can be defined as a Christmas movie, however, the fact is that the plot is during the Christmas holidays, and that love and family values lurk in the background of the action-filled thriller. If you are in the look for something outside comedy and love, this is the Christmas movie for you.
Averett student's favorite movies/series 
Taking the focus away from the internet's top ratings, we also got to hear some recommendations from our Averett students, as they shared their top movies/series to watch during their time off.
"The TV-show Survivor on CBS is my favorite TV series at the moment because it's just awesome and one day I'm going to win the show." Junior Brenner Woodcock, majoring in physical education, said.
"I really like Grey's Anatomy because I love the drama and all the stupid plot twists and heartbreak that happens in it. There is never a dull moment and it is actually pretty accurate when it comes to doctor terms." Sophomore Madison Morin, majoring in sports medicine, said.
"Good Will Hunting is my favorite movie. It has a deep meaning along with good comedy and so many memorable scenes." Senior Colton Dutchess, majoring in sports medicine and biological psychology, said.
About the Contributor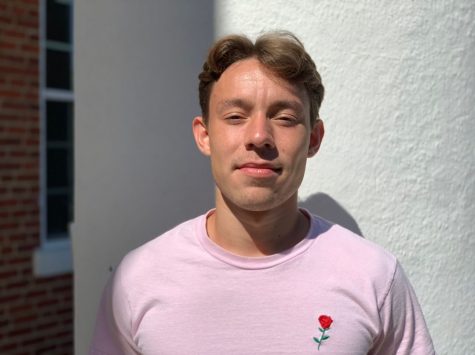 Baste Endresen, Staff Writer
Baste is a junior, international student coming from Bergen, Norway. He is majoring in Sports Communications with a dream of working in TV covering soccer...