Fall Sports Taking Advantage of Their Traditional Seasons Being Postponed Due to COVID
Before Averett student-athletes returned to school earlier this fall, the USA South Conference announced that fall sport conference competition will be postponed until spring 2021. The sports impacted by this decision are football, men's soccer, women's soccer, volleyball, men's cross country, and women's cross country. Although conference competitions are postponed until spring, fall sports are fortunate enough to be allowed to practice, train, and hold intrasquad scrimmages on campus.
News of the postponement was heartbreaking to student-athletes at first, but many are taking advantage of this opportunity to become stronger for when the season comes around in the spring.
"Since we cannot have our typical fall season, we are trying to give our girls the best athlete experience possible," Madison Dadez, a first-year graduate assistant for women's volleyball, said. "We are having competitive practices and will have intrasquad scrimmages to have a sense of normalcy"
The women's volleyball team is practicing four to five times a week as well as lifting to prepare for these upcoming intrasquad scrimmages.
Due to COVID, these teams are having to take a different approach towards how they would typically do daily activities. Before entering facilities at North Campus, athletes and faculty have to complete a daily health screening, along with getting their temperature checked. All equipment used during practices has to be properly cleaned after use. The locker rooms are sanitized as well by coaches once all athletes are finished dressing out.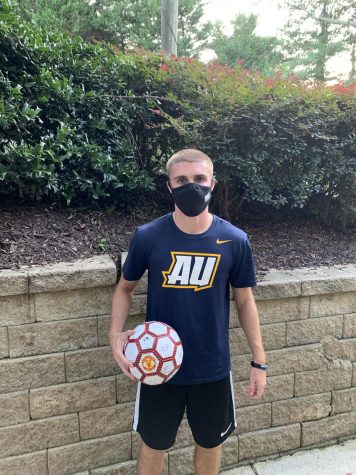 Fall teams also have to go through a set of phases before they are allowed to practice as a whole. "We went through 17 full days of our phases until we could fully practice together as a team," Bradley Bizzel, a junior and member of the men's soccer team, said. "Once we got through our phases, we were able to scrimmage, and our first intrasquad scrimmage went well."
Student-athletes were provided with masks that they are expected to wear at all times while on North Campus, especially during practice.
"It was definitely hard in the beginning because they restrict our breathing, but I think they are actually helping us with controlling our breathing," Johanna Stichel, a member of the women's soccer team, said.
The way teams have interacted socially has changed drastically due to COVID restrictions.
"Our team is practicing and lifting four times a week, so we are getting to spend time together during those times, but it is hard to hang out outside of that as often as we normally would," Mikey Nichols, a senior on the cross-country team, said.
Nichols is not the only one who is adjusting to having limited time to spend with his teammates.
Nautica McCallum, a senior on the football team finds practice much different now due to COVID restrictions.
"The atmosphere is very different compared to past seasons," McCallum said. "We are all used to being together all the time, so it different having a locker room capacity, being split into small lift groups, and having practice as often. We used to have practice two to three times a day and now we only have it two to three times a week."
Although student-athletes are upset about their seasons being postponed, they are staying optimistic and taking advantage of this extra time they have to prepare for the spring.
"We are staying positive and following the rules so that we can have our season in the spring," McCallum said.