Averett Announces Presidential Ambassadors Program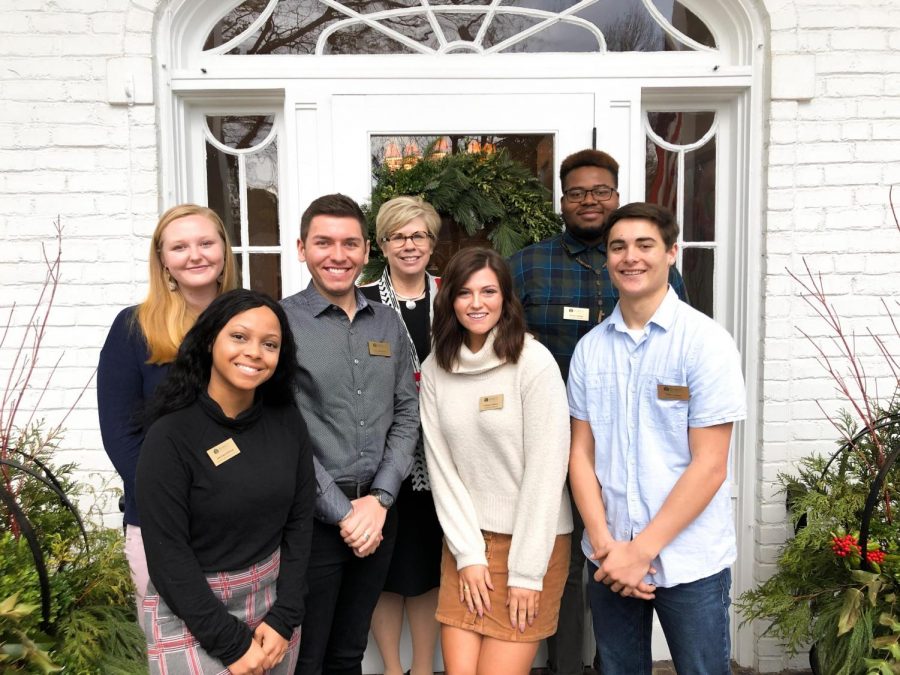 Averett University has recently implemented a new program on campus, the Presidential Ambassadors Program, which consists of seven undergraduate students: Allison Haran, Aariyana Britton, Grayson Eaton, Delaney Sullivan, Will Caviness, Maleek Pulliam and Owen Story. These students will represent Averett at events throughout the year.

 "Our presidential ambassadors were chosen because they have distinguished themselves in their academic pursuits, and in any other leadership positions in which they serve," Dr.Tiffany Franks, president of Averett, said. 
Being selected to join came as quite a shock and an honor to most of the students. 
"When I first received the invitation letter to join this newly established group, I was ecstatic," Grayson Eaton, junior, said."Then, after finding out that I was selected as one of only seven ambassadors out of the entire university, I began to feel a strong sense of belonging and accomplishment. It meant and still means a lot." 
The main goal of the program is to foster relationships with all University constituencies including alumni, the Board of Trustees, Averett Society, campus visitors, special guests, current and prospective donors, and the surrounding Danville community. Students act as advocates for Averett at on and off campus events such as Board of Trustee related events, home football games in the President's Suite, Averett Society events, and receptions on campus or at the President's House. 
According to Story, a senior, the most recent event the students participated in was "Thursday the 30th of January at Frank R. Campbell Stadium, where we met members of the board and enjoyed a buffet dinner, before watching an introductory video to college wrestling." They were also "introduced to two star wrestlers, George Moseley and Trent Ragland, and Head Coach Blake Roulo, who invited them to watch the dual inside the gym at North Campus." 
Many of the student ambassadors also participate in other leadership roles on campus such as  Caviness, a freshman, who participates in the Student-Athlete Advisory Committee (SAAC) and Averett's Athletics Leadership Academy, while Pulliam, a junior, is captain of the football team, a member of the National Bonner Leader Program, and an active member of the Brother 4 Brother Program. Eaton is secretary for the Love Danville Higher Education Council, as well as a member of The Averett Singers. Story also participates in the SAAC and is a captain on the men's soccer team. 
The newly elected students believe that the program will become permanent and succeed well into the future. 
"I believe that Averett's Presidential Ambassadors Program will be invested long term at Averett," Caviness said. "It not only is a great way for students to build connections and have great experiences, but also get involved with the community." 
Being a Presidential Ambassador also gives contacts for future careers and real world experience in communication.
"Serving as a Presidential Ambassador could definitely help to open doors for our students…whether that be for an internship, a job while they are a student, or contacts to help them obtain a career when they graduate," Franks said, "Anytime students are given a leadership opportunity, I encourage them to say 'Yes' enthusiastically! You never know what could come out of a single interaction with member of our faculty, staff, Board of Trustees, alumni, or community member." 
The members of the program all like how it connects them with opportunities and people they would have most likely never met before joining the Presidential Ambassadors. 
"I like the fact that others around campus are so eager to know who we are or what we do," Pulliam said. "Also, despite the diversity in our group, we all click together well and get along with each other." 
About the Writer
Caitlin Towler, Staff Writer
Caitlin is a freshman who is majoring in communication and minoring in
English. She often spends her free time listening to music, reading, or writing...