Averett Student-Athletes gain experience with University Sports Media
It's been an exciting year for Averett athletics. Basketball and wrestling season is upon us. The football team finished the season with a winning record going 7-3 in the USA South Conference, and volleyball won their division.
With all these accomplishments and exciting moments, we also have seen a lot of promotional and highlight videos going into game-day that made the atmosphere that much more exciting.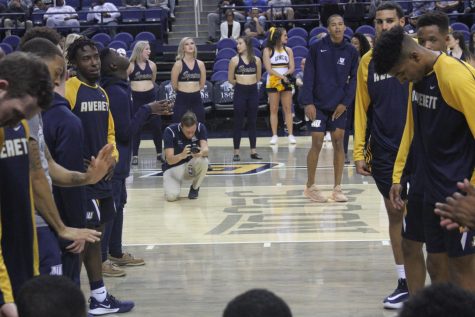 Student-athletes Brent Hammer (football) and Deon Batts (lacrosse) were the eyes in the sky for game-day as they created content for the Cougars all semester long. They created game-day visuals and social media tags that aided the game-day experience while gaining experience for their career field. 
Senior, Brent Hammer has been the front-runner for two years aiding sports information with his weekly football videos, live wallpapers, and animations. 
"It's been amazing. It's giving me opportunities I never thought I'd have while furthering my education. It doesn't get any better than that," Hammer said.  
Sports Information Director, Drew Wilson knows game-day can get hectic and has been grateful for the help from the students that have a passion for sports media. 
"It's so many hats that we wear and the roles we fill in sports information on a day to day basis that any help received is greatly appreciated," Wilson said.
With so much content to cover and so much competition in order to stay on top in recruiting and getting students to come to Averett, marketing the university brand is vital.  
"Anytime you can get help with a task it helps and it also allows our students who have a passion for media to get hands-on experience," Wilson said.
With 12 years of experience, Wilson highlights in today's era videos are more prominent than before and with the many tasks he is responsible for, the help from students keeps him up to date with current trends and information. 
The experience from hands-on work can help tremendously in the sports media field but the inspiration for Hammer came from on-field experiences. 
"As an athlete, I knew how much we wanted to have those same videos that are done for professionals for the team," Hammer said. "So one day I just got up, watched some YouTube videos on how to edit sports videos and just continued to self teach myself every day until I got to the point I'm at today. I'm still learning new techniques from Drew and hand-on experience things that'll make me better." 
In addition to the work he did on his own, Hammer credits Wilson for helping him reach his goals.
"Drew Wilson has been the biggest help to me. He's given me tons of opportunities to grow myself and my brand. From traveling to the Greensboro Coliseum to cover the men's basketball game, to allowing me to showcase my talents in front of the whole school with the spring sports banquet highlight tape, I'm forever in debt to him. Also, guys like Deon Batts who just came on the scene here at Averett has helped me become a better videographer. He is extremely talented and is definitely the future of the media promotion of Averett Athletics."
With the help received from Wilson's staff and Batts, Hammer states his biggest lessons learned in the process was to stay organized. 
"You have to be organized with everything you do. From, filing the clips away, to where you stand and record the games, you even have to plan out where you're going to be during the week. It can get hectic at times but if you're good at organization, it makes it a whole lot easier." 
When prompted to give advice Wilson and Hammer had similar words of wisdom to give to aspiring sports media students. They both advised students not to be afraid to put themselves out there and use the opportunities Averett provides to build their skills. 
You can check out Hammer's videos on Twitter @HammerGFX and follow (@AverettAthletics to stay in the loop with Averett Athletics highlights, stats, and more!