Canvas Changes Campus
Hang on for a minute...we're trying to find some more stories you might like.
The primary form of communication and ways to access grades and class lecture notes has changed. The switch from Moodle to Canvas has garnered good reviews, and has motivated students and professors to be more interactive outside of the classroom.
"It's my chief conduit for lecture notes, quizzes, and contact," Professor of Music Anne Lewis said. "The inbox feature is very helpful for immediate contact and help with student questions."
Some professors enjoy using Canvas but note they had to learn it very quickly.
"I will definitely use this (Canvas) more than Moodle. I used Moodle a lot for uploading class assignments, posting information, sending emails, posting grades, and general uploading documents for classes.  I am using Canvas for all of this and more. Moodle was a lot more awkward technologically." Professor and Chair of Business Administration Dr. Peggy Wright said. "Overall, the biggest issue is how fast we had to change over.  But now that I have learned a lot, it is easier to use, correct, add dates to assignments, upload files, and grade. I am excited to learn more and glad to help anyone else."
Students have also liked the move over to Canvas. It's no surprise with how easy Canvas is to use for students. Canvas has bridged the gap between professors and students to make communication and learning simple and easy.
"I did not use Moodle alot last year," business and communication major Cassidy Pruitt said. "However I do find myself logging into Canvas a lot more already and having the ability to submit work online is a great help."
Canvas has many great features that make using the app easy and fun to use. They have an app that is free to download and there is even a section to get help from online tutors in your major or area of study.
About the Contributor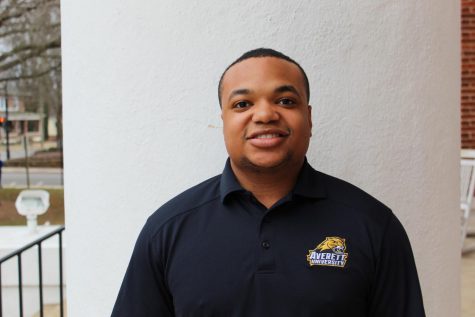 Eddie Glenn Jr., Staff Writer
Eddie Glenn Jr. is a junior communications major and spends his free time broadcasting Averett home sporting events. When he isn't doing either of those...