Letter to a Freshman Self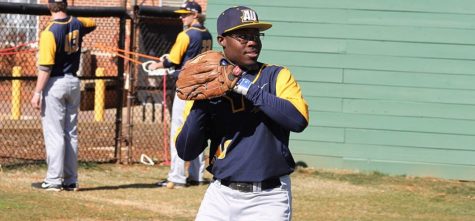 For some seniors, it may feel like college went by in a flash. To others, it may have been a long grueling road. No matter how it felt, it still happened all the same. As the 2019 graduating class prepares to leave our campus and enter the world, many of them will begin to reflect on their time here.
"I have learned what my strengths are here at Averett. I have also learned who I am, and what I want my future self to become," said senior communication major Ashley Thornton.
The four years that make up college are full of learning, both in the classroom, and learning about one's self.  It is during this time period that students at Averett discover their passions and life goals.
"College is a great opportunity to better yourself, and find out what you want to do with your future. Also, you meet lifelong friends, and it's a great experience," said senior psychology major DeAngelo Lunsford.  
However, if given the opportunity to give their "freshman self" advice, what would they say? Would they approach college any differently?
"I would definitely approach college differently. I would have taken academics much more serious in my underclassman years," Thornton said.
It is not an uncommon occurrence to have a bad semester or two as an underclassman. It can sometimes take a while for a student to settle in, and find out how to best succeed.
"I set myself back by not studying as well as I should've my first two years here," said senior sports management major Deondre Branch.   
By the time a student is a senior, they have gained more knowledge about services the school provides and how to best utilize them.
"I would have also taken more advantage of the opportunities that the school offers. For example, working in the Sports Information Department, or helping more with the Student Government Association," Thornton said.
The earlier a student does figure out how to balance a college workload, the earlier they will succeed.
"I would tell myself to be more focused on school work and doing a good job in class. I messed up big time my freshman year, and if I could take it back I would," Lunsford said.
Although, it's those early struggles as an underclassman that eventually shape the person that walks across the stage to receive their diploma. The lessons learned on Averett's campus are ones that graduates will always carry with them.
"I would tell my freshman self to follow their heart and do want you want to, and not what others want and think you should do," Thornton said.
While they look forward to graduating, there are some aspects of college that  graduates will understandably miss.
"I haven't even graduated yet and I already miss my friends. Every time one of them says, 'Ashley, please don't graduate,' it hurts a little. These people have been my family for the past four years, and soon they won't be steps away from me," Thornton said.
Perhaps, it is the people that make Averett so special to its graduates. 
"Every professor wants to see you succeed, and they're going to do their best to make sure you achieve what you're supposed to. There's a family atmosphere here, and everybody pretty much knows everybody," Branch said.
While it is just as sad for us to say goodbye to our seniors, as it is for them to say goodbye to us, it is meant to be. They have worked hard to get where they are today. Better yet, they have done it all without the help or guidance of a "future self".