Carthon: Striving for Greatness
Hang on for a minute...we're trying to find some more stories you might like.
The Averett women's basketball team were terrific this season. Their success came from the coaches, players, and training staff on the team. Everyone played a major role, but junior forward Brooke Carthon had a standout season.
Carthon led her team in scoring, she averaged 16.7 points a game. She was also second in assist and third in rebounding for her team this season. During the season, Carthon reached a huge milestone in her career. She scored her 1,000 point on February 3 against Emory and Henry College.
"It feels like a dream come true," Carthon said. "I have been working extremely hard for this. I got my 1,000 points in high school on my senior night, and I just challenged myself to be better than I was in high school."
Not only did she score 1,000 points in just three years, she also became seventh in the Averett all-time scoring list. She was also named to the first team all East Division. Carthon has the potential to be one of Averett's top players to ever come through.
"When I got it, I felt relieved and honestly excited for myself because this (is) a big milestone, and also becoming seventh in the Averett all-time scoring list was extremely exciting as well," Carthon said.
You can tell that she has a lot of passion for the game of basketball. Carthon approaches every game with the mindset to demolish anyone and everyone on the opposing team. She doesn't back down to anyone and she never gets rattled by any situation. Not only is Carthon a leader on and off the court, she is a star in the making. She definitely played a pivotal role in the team's success this season.
"My mindset going into every game is just playing my hardest and in control," she said. "I go out there knowing that I'm the best in the conference and that no one can guard me. Having that dog mentality sets you apart from the rest, and that's what I have every time I step out on the court."
Now that this historical season has ended for Carthon and her team, it's time for offseason workouts. This is mainly the time where athletes tend to improve their skills. Although the team won their conference, they ultimately didn't achieve their main goal, which was to make the NCAA tournament. Every returning player, including Carthon, will use that as motivation to get better this offseason. Their determination will help them achieve their goal of making it to the NCAA tournament in the future.
"I plan to improve for next year by losing a couple of pounds and working out this offseason and everyday over the summer," Carthon said. "I have a professional trainer that I touched bases with that will get me where I need to be."
About the Writer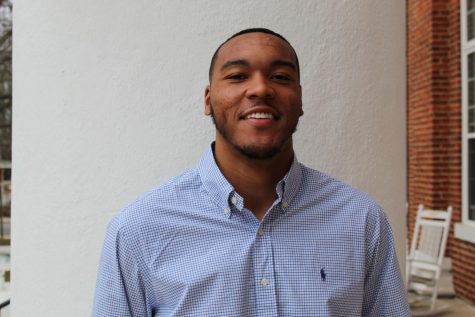 Timothy Henry, Writer
Timothy is a junior, double majoring in communication and physical education with a concentration of coaching. He plays on the basketball team and is a...