Football, Women's Soccer Use Offseason to Build Program
Hang on for a minute...we're trying to find some more stories you might like.
When your favorite sports aren't in season, do you know what the teams are doing? Of course, most of the players are working out and enjoying the time off, but what about the coaches? For Averett University's coaches, the work doesn't stop during the off season.
Head Football Coach Clieve Adams explained what he has named the team's "winter phase," which puts an extreme emphasis on academic and physical fitness. The winter phase consists of very heavy recruiting by the coaches and intense conditioning and studying for the players.
For Adams, his off season seems mostly promising. He boasts a 101-man roster, an achievement that Adams has been hoping to accomplish for a time now. However, such a large roster brings unique difficulties.
In Adams coaching philosophy, academics is a big concern for all 101 players. He aims to have at least 50 players with a 3.0 GPA by the end of spring 2019, and with the team's academic monitoring by the entire coaching staff, this will no doubt be another goal for Adams to check off.
The football coaches do still have a lot of work cut out for them. They are currently working to replace a loss of 24 seniors. In order to achieve this, the staff is attempting to find leaders among the players that can fill the shoes of those who left. In the words of Adams, it's a "changing of the guard."
Adams is optimistic that after all of the work that his coaches and his players are putting forth during the off season, they will deliver a championship team for the 2019-2020 season.
Head Women's Soccer Coach Colleen McTygue is busy at work too trying to build a confident team for the conference. McTygue is facing her own challenges with her young team.
McTygue is tasked with building leadership among a team with nine freshmen. The team recently lost seven seniors, six of whom were starters. As if that weren't enough, McTygue needs to replace two graduate assistants, which she is already interviewing for. Needless to say, McTygue will have some trials to overcome in her off season, but she certainly has a plan to succeed.
McTygue's biggest concern is recruiting new prospects to fill the positions lost. She will be personally attending many different recruit events at other schools. She plans to find and recruit the best possible candidates for Averett. She keeps in constant contact with potential players to ensure Averett gets the athletes that it needs.
In order to better herself and be the best coach she can possibly be, McTygue plans to watch how other coaches encourage and teach their players as a method of improving her own coaching style.
Both McTygue and Adams put in every ounce of effort that their players do and then some. Their hard work during Averett's offseason is what makes them stand out as impressive coaches.
About the Contributor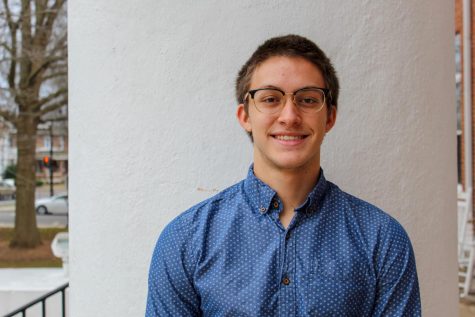 Cameron Becker, Writer
Cameron is a freshman majoring in English literature. He is a long snapper on Averett's football team. Outside of football, he enjoys reading, writing,...