Cougars Battle Back After Injuries
Hang on for a minute...we're trying to find some more stories you might like.
As most athletes know, injuries are a part of sports. Three of Averett's senior athletes know this better than most. These athletes have overcome serious injury to return to the sports that they love.
Bailee Brown is a senior double majoring in biomedical science and integrative health psychology and is goalie of the women's soccer team.
Brown has struggled with a torn meniscus in her right knee. However, her most serious injury occurred during the spring of her sophomore year.
"I was in practice and had just started a shooting drill in which I took an outstretched dive and landed with my arm fully extended," Brown recalled. "At that moment, my shoulder popped out of socket."
Brown tore her labrum in her right shoulder. After trying to play through the injury, she opted to have surgery.
Recovery was surprisingly quick for her. At four weeks, her range of motion rehab was no longer a challenge. Ten weeks in, she was allowed to start diving from her knees on to a mat to get the feel in the goal again. A little over 12 weeks after her surgery, she was cleared to play.
However, recovery, while quick, was not easy.
"The biggest (challenge) I faced was making it through the pain of the first week," Brown said. "I knew I had to keep moving my shoulder so it would not lock up, but the pain was excruciating."
Brown found motivation in her love for her sport.
"Anytime I was discouraged, I would go to a field and make myself think why I was putting my body through this," she said.
In her junior year, Brown recorded an impressive 128 saves with a .795 save percentage. She is excited for her senior season.
"I really just want to use my recovery and transformation as an inspiration for our freshman and to leave a legacy in my senior year," Brown said.
Taylor Hodges is a senior majoring in biomedical science and plays outfield for the softball team.
During her time at Averett, Hodges suffered a broken wrist after colliding with a teammate and a severely sprained her ankle during a collision with an opposing catcher at home plate.
Hodges wrist required surgery, having three pins put in place for two months.
"Therapy was very challenging," Hodges said. "I had very little range of motion in my wrist and had to work hard to get it back."
After her ankle injury, Hodges had to wear a boot for two months. Injuries had their toll on her.
"When I broke my wrist, I was devastated," she said. "It was really hard for me to go from playing to having to sit on the sidelines. I stayed positive with help from my team and coaches. They were always there to help me and cheer me up when I would get down."
Kyle Vidano is a senior majoring in sports management and plays second base for the baseball team.
Years of sliding and diving on the baseball field wore on Vidano's shoulder until he was diagnosed with a torn labrum in his throwing arm, one of the worst injuries a baseball player can receive. Vidano missed all of the 2017 season.
It wasn't until two months after surgery that Vidano began rehab. Due to the specialized nature of a baseball players throwing arm, rehab was an excruciatingly slow process.
At first, even the simplest of activities were a challenge for Vidano.
"Mentally, it was harder, not knowing how I'd be after I was fully cleared," he said. "There were days I was unsure of the type of player I'd be."
He credits a great deal of his recovery process to his physical therapist who was by his side encouraging him that he would be able to play again.
Vidano returned to the field in a big way. After a year removed from baseball, he led the team in hits and runs and was awarded USA South All-Conference First Team honors.
"Words couldn't describe the way I felt getting back out there," Vidano said. "I grew to appreciate stepping onto the field every day."
These three athletes have been through a number of injuries to play their respective sports wearing the Averett blue and gold. They are not the first athletes to overcome injury and certainly will not be the last.  Their stories share a common desire to play that has only been strengthened by what they have overcome.
About the Writer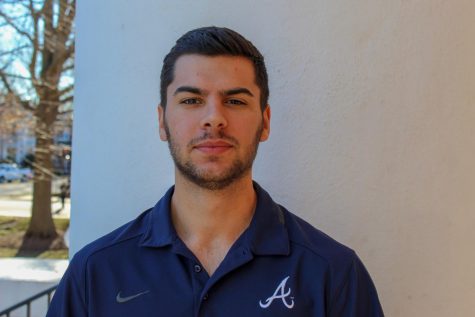 BK Stancil, Writer
BK is a junior majoring in journalism with a minor in business. He plays on the Averett baseball team. After college, he has aspirations to be a journalist...