Bird Scooters: Speed Demons on Campus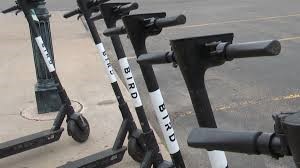 If you are a student here at Averett, you know about the black scooters that are placed all over downtown and here on campus. Lots of students are spotted coasting through campus either to get to class or just to have fun.
The Brand of the scooter is called "BIRD". Founder Travis VanderZanden first put these scooters to use early September 2017 in Santa Monica, California. Since then these scooters have been seen in many big cities and towns.
To have access to the scooters you have to activate them through the Bird app. After downloading the app, you scan the QR code on the scooter. Make sure you have money on the app in order for the scooter to activate.
It is $1 to start and after that it is $0.39 per minute. The minimum amount you must have is $2.50. A temporary hood of $3 is placed at the start of the ride.
"If you just have $5.00 on the app, you can ride for a maximum of 15 minutes," basketball player Lanie Bethel said. "The scooter automatically slows down and turns off after your ride is over."
Wrestler Jaleel Jones also has experience with the scooters. "A group of my teammates rode the scooters all the way over to North Campus," Jones said.
Averett's North Campus is 3.1 miles away from Main campus. That sounds like a pretty fun little ride to go. One round trip totals up to 6.3 miles.
The Bird scooters can travel up to 25 miles on a single charge. The scooters run off a 36 volt, 12800 mAh lithium-ion battery that can get the scooters up to 18 mph on a flat surface. Sounds like loads of fun if you just want to ride around and enjoy the weather. Averett students and staff seem to be taking notice of this as these scooters are seen all over campus.
After hearing all this about the Bird scooters, download the app and go ride if you haven't already. Make sure you have the funds as well.