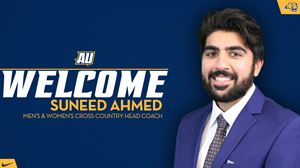 Landing a head coaching job at any level is considered a significant accomplishment in the coaching profession, but getting a head coaching job at the collegiate level is above and almost beyond.With Averett growing each year,new athletic programs and new coaching opportunities are being added. In the last four years here at Averett we have hired more than 11 new head coaches. The newest leader is the recently named Women's and Men's Cross Country Head Coach Suneed Ahmed. 
Ahmed was announced as the head coach of the Cougars' cross country team on February 1. He is the first full-time cross country coach in school history. Ahmed was previously a graduate assistant coach at Utica College.
"I am blessed to have the opportunity to work here at Averett, and can not wait to see where the program can go," Ahmed said. "(I'm excited about) having the opportunity to coach the sport I love, and being able to be a head coach at the collegiate level." 
Another head coach who has a new role is Ben Potter. Although Potter has been the head coach for the men's team for a year now he has recently been named the head coach of the new women's golf team as well.
"Coaching the sport I love is what brings me passion every day, and now to not only coach men, I can coach women who aspire to be great at golf to is a dream come true," Potter said. 
The sports programs are constantly growing at Averett every year, and the new coaches continue to impress every year with their desire to be great and to win. Athletic Director Meg Stevens picks her staff with precision and will not settle for anything less than that. So becoming a head coach at Averett is not easy, but when blessed with the opportunity to become one here you have to come prepared.