Thanksgiving around the world
Hang on for a minute...we're trying to find some more stories you might like.
A federal holiday in the United States that is celebrated on the fourth Thursday of November, Thanksgiving originated as a harvest festival and is today one of the most celebrated holidays in the United States. Founded as a national holiday in the midst of the American Civil War, by one of the most famous presidents of the United States, Abraham Lincoln in 1963, the principle of Thanksgiving is about having a feast with family and friends.
The "First Thanksgiving" was celebrated by the Pilgrims after their first harvest in the New World in October 1621. Following the harvest, a three-day-long feast occurred during which Native Americans and Pilgrims shared food and drinks. The feast was essentially composed of turkey as the traditional main course, yams, squash, pumpkin pie, cranberries and bread stuffing. The New England colonists were accustomed to regularly celebrating "thanksgivings" days of prayer, thanking God for blessings such as military victory or the end of a drought. 
To this day, the tradition of Thanksgiving is carried on and depending on people the meaning might differ. 
"Thanksgiving to me is like a time where I can get together with my family and friends and just you know be thankful for everything that happened in my life. It is really is just a good time to get along with my family," Kiana Williams, a sophomore majoring in psychology said. 
"To me Thanksgiving is mostly like a reflection day. I take the time to reflect on the little and big things to be thankful for because those are things that I sometimes take for granted. However, this year I am having more of a 'friendsgiving' day instead of a 'thanksgiving' day. I will have my friends over. It will be bonding and catching up time. I want to appreciate them," Calierya McLaughlin a senior majoring in psychology with a concentration in clinical and counseling, said.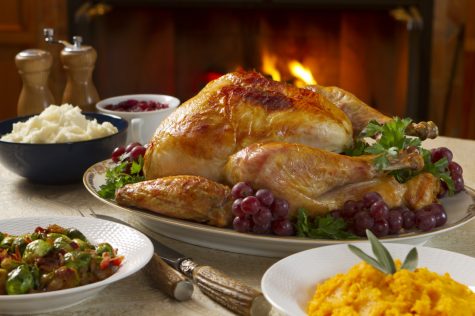 During Thanksgiving, some families spend weeks preparing for their Thanksgiving feast, and the Thanksgiving of today is rooted in the meal that the Pilgrims from Europe shared with the Native Americans on the first Thanksgiving. 
"For Thanksgiving we have mac and cheese, collard greens, ham, turkey, chicken, rolls," Williams said. "Sometimes we would have mashed potatoes salad and then for like desserts we would have cake or the typical sweet potato pie or something like that. Basically that is it, really it is the typical Thanksgiving food." 
Celebrating Thanksgiving being a tradition in itself, watching football during that time is another one. In fact, watching the football game while preparing the Thanksgiving meal is an important part in the process of celebration for many families. 
"As far as traditions, we don't really have a lot of traditions but one of the traditions we have is  we always wear football jerseys on Thanksgiving and we always watch football and also we always have dinner at my aunt's house because she was in my grandmother's old house so now it's just been a tradition to have Thanksgiving there," Williams said. 
Thanksgiving is not a uniquely American holiday. In fact there are similar celebrations in the Bahamas for instance. 
"The American Thanksgiving and the Bahamian Thanksgiving is nearly the same thing. The only difference would be that American Thanksgiving is a holiday. Like in certain schools or colleges they give breaks for Thanksgiving, but in most schools in Nassau it is not a holiday. It is just a regular day. The most that we would do in terms of school is that we would have class until 12 oclock' pm and everybody have their Thanksgiving dinner at home with their families. We also have different services all around in church, schools, different classrooms. They put up a presentation," Winston Sinclair, a junior majoring in religion, said. " In terms of food, it is different. In the Bahamas we don't have collard greens, or yams. It is not a popular thing like it is in America. The closest thing we have in terms of food would be the sweet potato. Also in terms of traditions, usually around Thanksgiving, people just gather around and watch football games. It really is just a regular day, not a holiday. Everybody just say what they are thankful for and that is it."
In countries like Canada, there are more disparities in the celebration of Thanksgiving. As a matter of fact, instead of being celebrated on the fourth Thursday of November, it is instead celebrated on the second Monday of October which in the United States happens to be Columbus Day. Another country that celebrates Thanksgiving at a different time and also for a different reason then the Americans would be Ghana. In fact, in Africa it is usually celebrated in the month of August, marking the end of the rainy season but just like the American Thanksgiving, the African harvest festivals have a lot of religious significance. During these festivals, there is a lot of dancing, and singing. 
As it is seen, Thanksgiving is worldwide celebrated and depending on the location the meaning and traditions widely differs even though the spirit stays the same: celebrate with friends and family and  give thanks to God for the good things we have been granted.
About the Writer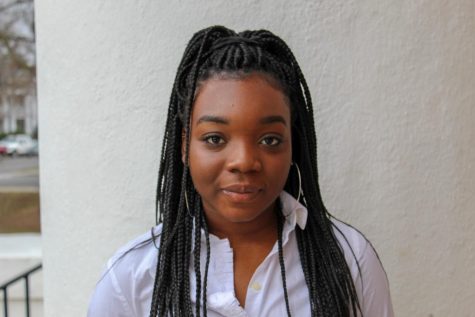 Lydie Kodio, Multimedia Editor
Lydie is a sophomore, international student coming from Mali, West Africa, double majoring in business administration and communication studies. When she...