Life of a Graduate Assistant: Coach Alixis Roccia
Hang on for a minute...we're trying to find some more stories you might like.
Being a graduate student isn't easy, especially if you are a coach at the same time. Alixis Roccia,  assistant coach for Averett University women's lacrosse, sure makes it look easy though. 
Roccia started her undergraduate college in 2015 and graduated in 2018. Majoring in psychology and sociology. Roccia played basketball for four years, and lacrosse for two years at Averett University. In her final year of basketball,  she was awarded Google Cloud Academic All-America Third Team selected by the College Sports Information Directors of America and was named Academic All-District First Team. In Lacrosse she was awarded USA South All-Conference Third Team as a midfielder and USA South All-Tournament Team. 
As a graduate student (GA), Roccia is earning her degree in education, specifically curriculum and instructional design. "I fell in love with the athletics program at Averett and realized I loved teaching. Becoming a GA provided me with the opportunity to both coach and teach my athletes as well as earn a degree that would help me continue to teach later in life. It was a perfect fit."
Asking for help goes a long way and makes life easier as a GA for Roccia,
"It can get busy trying to balance the two work loads but it all comes down to what you want for yourself. There are times that both sides of my life are pulling for my attention at the same time and that's when communication becomes really important. I have a great relationship with my head coach which helps. If I ever feel overwhelmed or need more time to focus on schoolwork, all I have to do is talk to her and let her know how I feel. It comes down to consistency and communication. I work hard and get my stuff done for both my work and education. This makes it easier for me to ask for more help or more time when I absolutely need it because they trust I will get it all done."
A year ago she was playing as a teammate with the students she coaches now. 
"Honestly I love coaching my old teammates. I've gotten to know a lot more about them and made connections I didn't have before."

Roccia plans for after graduate school is educating individuals whether that be in a sport or school. "Right now I'm more focused on working hard at my current GA position and leading our team to another successful season!"
About the Writer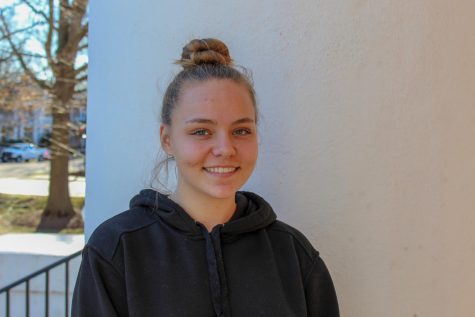 Breanne Sawall, Staff Writer
Breanne is a sophmore majoring in communication studies. Once she graduates from Averett, she plans on joining the U.S. Air Force working in the communications...