Sarkkinen's stellar career comes to an end
Hang on for a minute...we're trying to find some more stories you might like.
April 3, 2019 was probably just another day for most but not for Heidi Sarkkinen. The senior from Oulu, Finland was undefeated in conference singles until that day. Sarkkinen went up against North Carolina Wesleyan's Milena Amedieva and lost both sets in tie break with a final match score of 7-6 (7-5), 7-6 (8-6).
Head Women's Tennis Coach Bert Poole told Sarkkinen that she could take the next day off. But that's not Heidi Sarkkinen. The next day, less than 25 hours after her devastating, lost Sarkkinen was out at the Averett Tennis Courts practicing and working on the things that had gone wrong in her match.
"That's our Heidi. She doesn't quit she give up and she is always working to get better," Poole said.
Even with this loss, Sarkkinen will undoubtedly go down as one of the greatest tennis players in Averett University and USA South Conference history.
"Heidi brought the right kind of attention to our tennis program. It wasn't just her high level of play and achievements that people noticed. It was also the way she carried herself on the court. I've coached Heidi through over 100 matches and I never saw her have a difficult moment with an opponent or opposing coach," Poole said.
Poole says these things have definitely enhanced his ability to recruit higher-level players like Sarkkinen.
Before Sarkkinen arrived in the spring of 2016 the women's team had not reached post-season play in nearly 20 years. With Sarkkinen leading the way the Cougars reached the USA South Conference tournament in 2017 with an overall record of 7-9. Each year since the Cougars have steadily improved. This year the team reached the USA South Conference tournament semifinals for the first time in school history. The team finished with 13-6 and fourth overall in the USA South Conference.
"I can't understate the impact that she's had on our ladies tennis program," Poole said.
Sarkkinen found Averett through one of her coaches back home in Finland. Vellu Antila '03 played for the men's team at Averett. As he coached Sarkkinen he told her about his time at Averett and all the school had to offer. Once her college search began Averett was an easy choice for her and her family.
Sarkkinen has many great memories on and off of the court during her time here at Averett and says that the people she has met from all over the world have brought her so much joy over the past 4 years.
"My favorite memory though has been my senior year. We beat teams that were ranked higher than us. Also, when we reached historically to the semifinals in the conference tournament," Sarkkinen said.
Sarkkinen finished her Averett career on April 27, 2019 when the Cougars fell to North Carolina Wesleyan 5-0 in the tournament semifinals. Sarkkinen was down 4-3 in her first set against N. C Wesleyan's Fariza Abdulleva, who is ranked No. 11 in the nation, when the match was stopped due to a new conference tournament rule that calls for matches to be stopped once the overall match winner has been decided.
"During my that match I was trying to think that no matter what the score is, as long as I gave everything on the court I would be fine," said Sarkkinen.
Sarkkinen finished her career with a plethora of awards along with 75 career singles victories, 64 career doubles victories, and four-time conference Player of the Year honors. Only one other person has won the USA South Player of the Year four times.
Sarkkinen doesn't stop there. Poole says Sarkkinen is an incredible teammate and leader as well who is a great example to follow. She has always been willing to step out of her comfort zone by attending Student Athlete Advisory Council meetings, leadership meetings, and other activities that helped shape her into who she is today.
"Even though she's typically been a much stronger player than her teammates, she has always been very patient and supportive of them. I think this says a lot about her character and it's been noticed by all of us," Poole said.
Although her NCAA eligibility has been used up, Sarkkinen has a few more classes to complete before she graduates. She plans on being an assistant coach with the team next fall while finishing up those classes.
Sarkkinen's playing career may be over but her impact will be felt for years to come.
About the Writer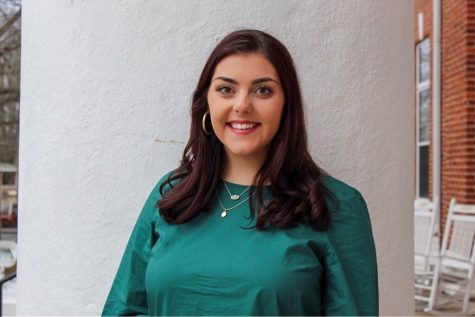 Ashley Thornton, Marketing/Social Media Director



Ashley is a senior majoring in communication studies/journalism. She is a member of the women's tennis team. Some of the organizations she's...