Seniors Share Their Plans for After Graduation
Hang on for a minute...we're trying to find some more stories you might like.
In less than a week, seniors at Averett University will walk across the stage to receive their diplomas. After graduation, the new alumni of Averett will have endless opportunities for their futures.
"I think at Averett I have really learned to apply what I am learning, so not just to absorb information, but really put it into practice," Emily Myers, senior majoring in music performance, said.
Myers has decided to further her education at The University of Texas at San Antonio in the fall. She will be working towards earning her master's degree in piano performance.
She explained how her decision to attend graduate school was "always in the back of my mind," but her education at Averett has given her "the foundation and the confidence to make that decision."
Myers has been playing the piano since she was 10 years old. Over the past two and a half years, she has played piano for Sacred Heart Catholic Church in Danville. She has also played the piano for chapel services on campus.
She is "excited for new experiences" after graduation, but she will miss her time at Averett.
"I am most thankful for the relationships I have formed here," she said.
After Myers finishes her master's degree, she wants to become a professor.
Similar to Myers, senior Davis Smith majoring in history, has a plan for his future too. Smith plans on joining the Navy a week after graduation.
He explained how at first, he thought about teaching once he finished his bachelor's degree. However, he then determined "I think the military service is for me."
The "major military presence" in Smith's hometown in Newport News, Virginia and his family's background, acted as major roles in his decision.
"My granddad on my mom's side, he was in the military during Vietnam," he said.
Currently, Smith is trying to decide how long he is going to stay in the military and is "debating between a four-year contract and a six-year contract."
He explained how he is looking forward to the "stability" of being involved in the military. In addition to having a stable job, he hopes through the Navy that he will have the chance to travel.
"I'm just trying to get out the country for a little bit," he said.
Another senior Phil Owens, majoring in aviation, has a similar plan of being part of the military. He wants to become a pilot for the Air National Guard and fly for the Air Force.
"I guess the end goal has always been to fly," he said.
He has been an enlisted member of the Air National Guard for five and a half years and has been a mechanic on planes.
Owens described how the process for him to become a pilot can take a long time. Recently, he passed a "major test" called the Air Force Officer Qualifying Test (AFOQT). He explained how this test is "pretty rigorous."
If he is given a pilot position, he wants to be stationed "in the East Coast."
"I'd like to fly for the Air Force, so I can make a difference and continue to serve," he said.
Seniors at Averett are getting ready to begin a new chapter in their lives. They will be using the knowledge and skills they've learned over the years to achieve their goals. Their future endeavors are limitless.
"This is going to kind of sound cliché, but follow your heart," Smith said. "Whatever you really want to do, that's what you need to do."
About the Writer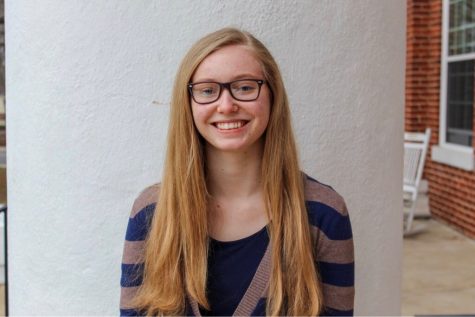 Katelyn Dewberry, Copy Editor
Katelyn is a junior majoring in communication studies/journalism with a minor in English. Her dream trip is to spend New Year's Eve in New York City....