Averett University Honors Recognition Program
Hang on for a minute...we're trying to find some more stories you might like.
Every Spring semester in April, Averett University holds a special event known as Honors Convocation to recognize students for their academic accomplishments. This year, the program was held Thursday, April 11, 2019 at 6:00pm in Violet T. Frith Arts Center.
A lot goes into planning this special event.
"Beginning in March, I reach out to the faculty members, and I ask them to supply me with information about students who may be award winners for their departments and then I also send out invitations to students who are in the President's and the Dean's list so they can attend the event," Mary Sullivan, assistant of the vice president for academic affairs and student success, said. 
In fact, the Averett administrative staff began the brainstorming for the event in January. They start by sending out official letters and e-mails to let the recipients know that they will be recognized. Around March they send out official invitations to the awards recipients with a request to confirm attendance.

"We request confirmation of attendance because it helps plan better. Some students are not able to attend the ceremony for diverse reasons. They either have other activities going on or they have already graduated," Sullivan said.
Indeed, even though the Recognition program is held every Spring semester, it recognizes both students from the past spring and the past fall semester.
Over the years, the Honors Recognition Program ceremony format changed a lot.
"This year we've had a reception before hand, which is a little different than we have done in the past years. We wanted to really make this an event that was a little more formal for students to come to. We ran the reception from about 5:15pm to a little bit before 6:00 pm so the students can enjoy and have a good time," Sullivan said.
The award program started with an opening speech given by Dr Tiffany M. Franks, president of Averett University. She greeted the guests and recognized the efforts of staff and faculty members before letting the stage to the Reverend Skyler R. Daniel, chaplain of the University, for a quick prayer before the beginning of the ceremony. Then, Dr Timothy E. Fulop, vice president for academic affairs and student success, took the stage to recognize students who made the Dean's list and the President's list. In order to make it on these lists, students must earn a GPA of 3.6 (Dean's List) or a GPA of 4.00 (President's List). 
"This semester, about 80 students made the President's List and about 140 students made the Dean's List," Sullivan said.
The ceremony  included honor society recognitions, departmental awards, scholar athlete awards and the Ember literary awards. 
Award winners were were very happy and some of them even left the auditorium very surprised
To see the name of students who has been recognized, please see the link down below.
1819 Honors Recognition Program Award Winners List.docx
About the Writer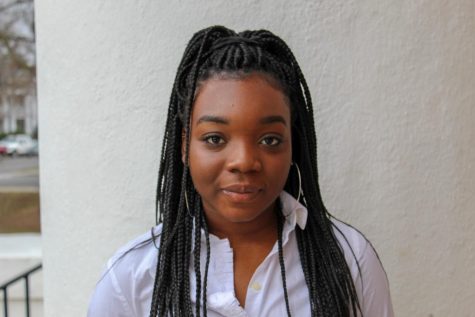 Lydie Kodio, Writer
Lydie is a freshman, international student coming from Mali, West Africa, double majoring in business administration and communication studies. When she...