Freshmen Should Reach Out to Nancy Clark for Their Financial Aid Questions
Hang on for a minute...we're trying to find some more stories you might like.
If you are a freshman at Averett University and are concerned about your financial information, you should speak with Senior Student Financial Services Counselor Nancy Clark.
Clark has been a vital part of Averett's financial aid department for close to 20 years. When first-year students are in the process of completing their financial tasks, she is the person who helps guide them in the right direction.
If new students are struggling with completing their FAFSA (Free Application for Federal Student Aid) or determining which loans to apply for, she will help them to the best of her ability.
Clark understands the financial aspect of beginning college is brand new to a lot of students, and she works towards making the process a little easier. She believes customer service is one of the most important parts of her job.
Clark will also take the time to help students if they are having difficulty signing into NetPartner. NetPartner is an online portal that Averett students can log on to, in order to check the status of their financial aid.
"She's the type of person that is very organized and she also has the ability to recall," Stephanie Walker, student financial services counselor and federal work study coordinator, said about Clark.
Walker has worked with Clark for 10 years. She explained how if there is a task that needs to be completed for a student from the past, that Clark can remember who that student is and how to handle the task.
Walker describes Clark as a person who has "a very big heart," and has enjoyed working with her over the years.
When Clark isn't working on campus, she enjoys spending time quilting and collecting different fabrics for future projects.
"Every year I have had the opportunity to go to the Mid-Atlantic Quilt Show in Hampton, Virginia," she said.
She explained how she enjoys being able to see "old friends" and talking about quilting with her husband.
Clark and her husband of almost 34 years, Bill, enjoy taking trips on the weekends too.
"We try to go back to his school in Staunton, Virginia for a long weekend at VSDB (Virginia School for the Deaf and Blind)," Clark said. "Bill went there from elementary to high school, and we enjoy revisiting his school seeing old classmates."
When it comes to your financial aid, Clark encourages students to ask questions when they are confused, because she is "there to make this process run smooth."
Clark's office is located on main campus at Averett Central, Room 119. If you are a freshman who has questions in regards to your financial information, make sure to stop by her office.
About the Writer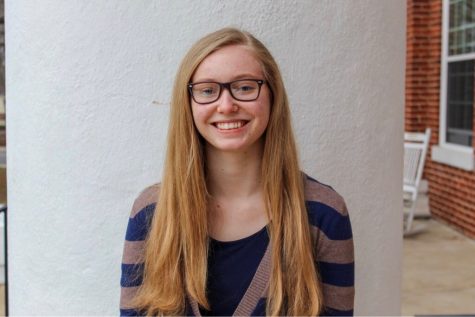 Katelyn Dewberry, Copy Editor
Katelyn is a junior majoring in communication studies/journalism with a minor in English. Her dream trip is to spend New Year's Eve in New York City....