Intramurals at Averett
Hang on for a minute...we're trying to find some more stories you might like.
Intramural sports at Averett allow students who aren't members of an NCAA sports team the opportunity to feel a part of a team.
This experience helps with finding new friends and being a part of something. It keeps the students involved as well as grants individuals with the ability to show off talents that they may not typically be able to demonstrate. This could contribute to improved feelings of self-confidence and one's ability to interact with peers while being in a fun, but competitive environment that they may not usually be a part of.
"It gives students the opportunity to engage with one another and develop a sense of belonging on campus," Jamal Forney, coordinator of intramural sports, said.  "Some people do not feel comfortable joining clubs, so intramurals can help students create friendships while playing the sport they love."
Students are highly competitive during intramural sports, which is a good thing because it shows that the students are engaged and that they care about what they are participating in.
As the years have progressed, participation among the variety of sports has continued to increase.
The most popular and competitive intramural sport, as of right now, is basketball. Not only do a lot of students play intramural basketball but a lot of students come out to watch the participating students play.
"We have a lot more students being active in intramurals this year," Forney said. "We have 13 teams playing in the 5v5 basketball league, we have also added a pool tournament and a 3v3 basketball tournament to give students more options."
What people may not understand is the amount of effort and time faculty like Forney put in to make these events happen.
Forney works hard to have everything situated so that games can be played. Some work-study students contribute to reduce his workload, however, they are often restricted due to classes and their own sporting events.
"It takes a lot of work and time to setup, make the schedules, and transport equipment back and forth from North Campus to Carrington. It's very time consuming but its all worth it when the event is running smoothly and the students are enjoying themselves," Forney said.
Getting involved with intramurals can really help a student become more active on the campus as well as provide these individuals with an ability to express themselves in a fun, competitive atmosphere alongside their friends.
Intramural sports are played throughout the school semester, thus, if you are interested in making a team for future intramural events, download the IMLeagues app on your device and be mindful of any announcements.
About the Writer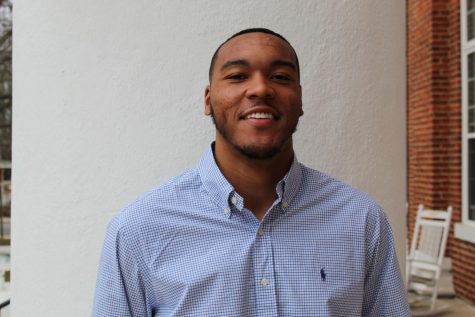 Timothy Henry, Writer
Timothy is a junior, double majoring in communication and physical education with a concentration of coaching. He plays on the basketball team and is a...