Best and Contreras: More Than an Athlete
Hang on for a minute...we're trying to find some more stories you might like.
Internships are vital for college students to gain experience and a competitive edge over others when applying for jobs after graduation.
Typically, individuals tend to apply for internships that will allow for them to gain knowledge in a field that is either of interest or will benefit them later in their projected careers.
Alongside this, internships are very useful for students to get hands on opportunities in the workforce.
There are many athletes here at Averett University who have landed internships for the summer. This not only helps them out for the future, but it also gives Averett a good reputation as far as giving the student-athletes the knowledge to be able to work for the particular internship.
Athletes who excel on and off the court are putting themselves in good situations to succeed after school.
Junior basketball player Ian Best, landed a finance accounting internship for the summer in Washington DC, working for Homeland Security. Landing a big-time internship like this is a huge accomplishment.
"I was excited for the opportunity that I was blessed with," Best said. "It was very hard to come by this internship and only a select few are chosen so that made it even more exciting."
Athletes often in the real world get stereotyped as simply being someone who plays sports and does not excel in the classroom.
Best is a prime example of someone who can do more than just dribble and shoot a basketball. He is a student first and athlete second. He has proven this throughout his three years at Averett.
Sometimes, athletes feel as though they don't have much of a say in the world because of the ways they are frequently stereotyped.
"Athletes have a powerful voice and it should be heard. They should continue to speak on what's right and help when needed," Best said. "Athletes want to bring real positive change in the light of issues that are occurring in their own backyard." Best said.
Vince Contreras, also on the men's basketball team, received an offer for an internship in Dallas, Texas. Here, Contreras would be working for GuideStone financial resources, an information technology company.
"I was blessed that a company believed that I could be an asset to their company. I felt very relieved of stress after I found out that I got the position," Contreras said.
Contreras will learn a lot of hands on material at this internship. He will gain lots of knowledge about the company itself but also about himself.
This would be the first time where he will be alone from his family, allowing him to experience time on his own to grow personally as well as regarding his career.
"I will be working with the Director of IT project management team. I will also be shadowing the director throughout the day and gaining hands on experience with software developing, business analytics, and business process engineering," Contreras said.
Contreras understands that this internship won't just be a walk in the park. He is ready to be patient and come in with an open mindset, especially since he is still in the midst of learning the material pertaining to his internship.
Both of these athletes will gain vital hands-on experience that will allow them to continue to compete with others within their fields of study, their athletic background continuing to provide employers with the reassurance that they are team-players, reliable, and committed to their work.
About the Writer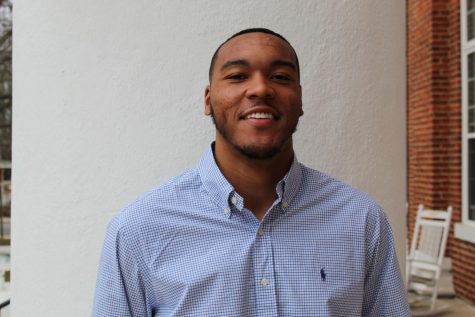 Timothy Henry, Writer
Timothy is a junior, double majoring in communication and physical education with a concentration of coaching. He plays on the basketball team and is a...