The Ember Serves as a Creative Outlet for Students
Hang on for a minute...we're trying to find some more stories you might like.
At Averett, students have the chance to submit their own writing, photography, and art work to The Ember. Yet, many people on campus don't know of this opportunity.
The Ember is a magazine that contains a variety of work created by students. In the fall of each year, the submission period begins. This is when students have the opportunity to send in their entries of work for judging.
Editors of The Ember, who are current students at Averett, then take the time to review each entry. They decide upon which pieces of work should be passed along to the final judging.
Dr. Charles Wuest, assistant professor of English and supervisor of The Ember, described how specific pieces of work are chosen as the winners.
"I suggest to the faculty judges to look for what you consider is the most interesting artistically," Wuest said.
Wuest advises students who are indecisive on submitting their work to speak with a faculty member or further their interests.
"I'd also recommend taking a class in the thing that you're interested in," Wuest said. "So, take an art class or take a creative writing class, and that'll give you a chance to really hone your skill and then you could submit."
The Ember provides students with the ability to share their hard work.
"It's a good way for everyone across campus to see your true potential," junior Cassidy Pruitt said.
Pruitt is currently in her first year of being one of the editors for The Ember. She explained how she enjoys being able to see the work submitted by students before the magazine comes out.
One student who has had her work published in The Ember is glad she made the choice to submit.
"I think it's worth putting your ideas out there even if you don't think they're going to win anything," senior Abigail Tuck said.
Tuck's poem "Sandstorm" won second place last year and a cash prize. She explained how she "didn't think it was going to win anything."
Regardless if your submission wins or not, you should still take the chance of turning in your work.
"I think that it helps you to see your work from a new point of view, it helps you become a better artist," Wuest said.
As a student who is passionate about your work, it gives you the chance to let others see what you have created.
"I think it's a creative outlet for students, because it's a way that students can show off their work and be proud of what they've done," junior Tiffany Bowker said.
Bowker has been an editor for The Ember for two years. She wants students who are hesitant in submitting to know that The Ember is a majority student run.
"I think it takes a little pressure off students when they are submitting to think that it's a student run organization, because you know that's your peer reading it," Bowker said. "Instead of like a teacher judging you for your literature or art. It takes away like the grading aspect that's in every classroom."
Make sure to keep a lookout for this year's issue that will be released in April. If you have a passion for writing, photography, or art take the chance of submitting your work to The Ember.
For more information on how to submit your work take a look at this website: https://www.averett.edu/ember/
About the Writer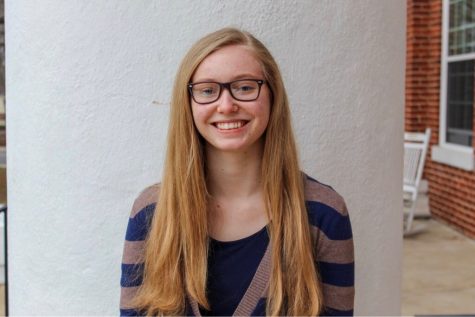 Katelyn Dewberry, Copy Editor
Katelyn is a junior majoring in communication studies/journalism with a minor in English. Her dream trip is to spend New Year's Eve in New York City....